29 May, 2017 (Esbjerg, Denmark) – This year's edition of Nor-Shipping will see VIKING showcase its ability to optimize and simplify safety for shipowners and seafarers alike. Presenting the latest evolution of its successful Shipowner Agreement concept, along with brand new safety solutions, the company is set to demonstrate its close alignment with operator needs and priorities.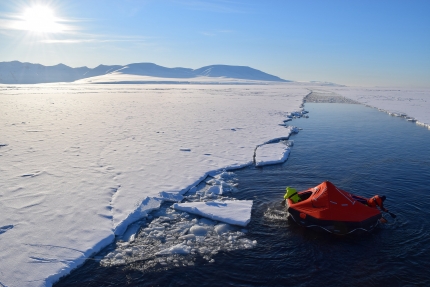 For more than 50 years, Nor-Shipping has gathered key maritime industry players from across the world in the Norwegian capital of Oslo. Once again, global safety equipment and servicing leader VIKING Life-Saving Equipment (stand T02-16B) will take this opportunity to introduce visitors to all its latest innovative solutions that not only boost the safety of crew and passengers, but reduce the time, complexity and costs of maintaining safety compliance.
Superior safety and
convenient compliance
"While safety is always first for our customers, convenient compliance is a close second. So, we put in a lot of effort helping shipowners to streamline their safety equipment sourcing and servicing." says VIKING Senior Vice President Benny Carlsen. When it comes to marine safety products, regulatory compliance and service go hand in hand. At this point, VIKING's Shipowner Agreements provide advantages for an ever-growing number of owners and operators. "Our agreements can be set up to manage all aspects of safety equipment sourcing and servicing at predictable, transparent prices. A wide range of safety equipment services can be added under the concept, including evacuation systems, liferafts (both conventional and extended service interval types), fire safety equipment, PPE and LSA," Carlsen says.
Hooked on
safety
Addressing one of the most pressing needs in the industry, Nor-Shipping visitors will be able to try out the revolutionary VIKING Nadiro Drop-In-Ball™ lifeboat hook system for themselves. Extremely safe and easy to operate, this revolutionary piece of hook-technology can be fitted on lifeboats and rescue craft of any make and size. Compared to conventional hook designs, the Drop-In-Ball™ system features only a few moving parts, making it light on procurement, installation and service costs as well.
A lifejacket
design revolution
VIKING will also be displaying its brand new PV95 series lifejacket that sets new standards for ergonomics, safety and performance. Available for adults, children and infants, it features a uniquely minimalist, crescent-shaped design ensuring a perfect ergonomic fit, swift repacking and compact stowage when not in use. Other key features include truly intuitive donning and excellent freedom of movement for easy boarding, turning and swimming in an emergency. "PV95 lifejackets come with a host of ingenious features. The traditional crotch strap is redundant by design, significantly reducing the time and resources needed for repacking. Also, with single buckle operation and just one instant-adjustment strap, the lifejacket is very easy to put on and fits passengers of any size," says Soren Hansen, VIKING's Global Product Manager for Personal Protective Equipment.
A pedigree of
Polar safety
Following the recent implementation of the IMO Polar Code, Polar safety looks to claim a large share of attention at this year's Nor-Shipping. Aiming to enhance the protection of both the environment and the lives of seafarers and passengers, the new Code outlines several mandatory goal-based requirements and in the years to come, yards, owners and operators have their work cut out to secure compliance.
According to Benny Carlsen, "VIKING has decades of experience when it comes to Polar safety. Working with all types of clients including special forces, navies, specialized arctic shipping companies, harsh environment offshore operators and SAR services, we know what it takes to specify efficient safety solutions for Polar applications. To name a few examples, we were first to develop special Polar liferafts operational down to -50° C, while our Polar immersion suits are tested down to -60° C. Both solutions are widely in use with operators navigating cold and icy waters today. Also, we have developed special winterized marine and offshore evacuation systems for safe mass evacuation in Polar regions, while our exhaustive portfolio of life saving appliances serve as a guarantee that we can put together a top notch polar-ready safety package, including personal and group survival kits as specified in the Polar Code.
"Participating in both editions of the SAREX expedition arranged by the Norwegian Maritime Authority, VIKING equipment has recently been put through full-scale tests giving us a unique insight in understanding Polar risks and how best to mitigate them through equipment performance. We would love to share our experience and recommendations for product selection. Anyone interested in safety under the new Polar Code is more than welcome to stop by our stand for dialogue and knowledge-sharing", Carlsen says.
About
VIKING
VIKING Life-Saving Equipment is a global market leader in maritime and offshore safety, providing and servicing safety and fire-fighting equipment for passenger and cargo ships, offshore installations, fishing vessels, the navy, fire departments and leisure yachts.
VIKING is a privately held corporation founded in 1960 with group headquarters in Esbjerg, Denmark. Products are manufactured in Denmark, Norway, Bulgaria and Thailand. VIKING offers a broad range of off-the-shelf and tailored safety solutions and systems certified in accordance with the latest requirements of the IMO, SOLAS, EU and USCG. The product portfolio includes chute and slide-based marine and offshore evacuation and crew transfer systems, liferafts, lifejackets, immersion suits, fire suits, work suits, pilot suits, helicopter transportation suits, MOB boats, davits, pilot ladders, signs, and a complete range of other lifesaving appliances. VIKING Shipowner and Offshore Safety Agreements offer uniquely customizable concepts that incorporate safety products, global servicing, single-source management, and financing in a variety of fixed price structures.
With 2,000 employees worldwide, the unique VIKING network of branch offices, agents, 260 certified servicing stations makes VIKING a truly global provider at convenient locations in all significant markets.
For
further information:
For
press inquiries:
Thomas Hestehave, Global Marketing Communications Executive, phone: + 45 7611 8454,
Email: THH@VIKING-life.com