28 September, 2017 (Billingstad, Norway) – ABB has added 'Fleet Intelligence' to its ABB Ability™ Collaborative Operations software, providing marine customers with a single and complete overview of their ship system maintenance needs rather than being faced with piecemeal, standalone reporting solutions.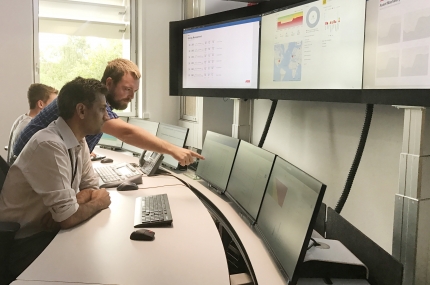 Fleet Intelligence
Fleet Intelligence addresses a common shortcoming in ship efficiency, where data from manufacturer manuals provide the basis for the planned maintenance system, meaning that equipment is maintained to standards set by vendors rather than being based on the needs of customers. As well as delivering greater efficiency and more precise inspection scheduling, better spare parts availability, asset protection and prolonged equipment service life, Fleet Intelligence minimizes the requirement for service engineer visits, resulting in lower costs. It combines cutting-edge IT for marine equipment maintenance planning, including advanced analytics of data in the cloud, with ABB's unrivalled domain knowledge and technical services support remote operational centers.
"Moving away from theoretical maintenance based on supplier manuals means that the customer can create work orders that feed into a planned maintenance system based on actual need rather than service manual generalities," says Kenneth Nakken, ABB Marine & Ports Head of Digital Service. "Closing the loop on maintenance assessment, equipment monitoring and analytics gives customers the application they need to fully digitalize vessel operations."
Mr Nakken says that a "jungle" of marine maintenance solutions has emerged, many of which are unable to exchange data seamlessly. "Typically, condition monitoring systems are not based on specific failure modes and services are delivered by multiple providers. Data-driven services use different delivery methods; standalone web-applications and reports make it difficult for operators to get a full overview of their actual maintenance needs and plan for them."
Building upon ABB's 'Asset Health Center' (AHC) software, which is already used within several industries, the Fleet Intelligence module harnesses the integration at the heart of shipboard ABB Ability™ systems such as Integrated Automation and Remote Diagnostics. Furthermore, for the first time in maritime industry, the system is also able to collect data from third party applications. The AHC approach overcomes one of the main roadblocks to digitalized vessel efficiency, the leading power and automation technology group says.
"When developing this solution, we looked at how the airline industry has digitalized its maintenance strategy," Nakken continues. "Assessing maintenance activities using a Reliability Centered Maintenance (RCM) approach and creating a Failure-mode, Effects and Criticality Analysis (FMECA) analysis allowed us to focus on optimizing maintenance by identifying and reducing the risk to the assets onboard a ship."
Fleet Intelligence software incorporates equipment condition monitoring, including analysis and visualization of defined performance parameters. In addition, condition monitoring can be supported by remote diagnostics services, including preventive maintenance recommendations or even predictive edge analytics. In this way, customers that already make use of ABB's remote diagnostics offering, are now able to fully close the loop when it comes to smart vessel maintenance, lifecycle management and protection of their assets.
The ABB Ability™ AHC is software specifically designed to create a collaborative environment for the vessel and the onshore support organization, also delivering the type of Machine Learning often invoked in marine circles, but rarely realized. ABB believes that the marine industry's OEMs, service providers, class societies and vessel owners will ultimately combine data from multiple cloud solutions through standard or application-specific APIs, defined as intercloud communication.
ABB (ABBN: SIX Swiss Ex) is a pioneering technology leader in electrification products, robotics and motion, industrial automation and power grids, serving customers in utilities, industry and transport & infrastructure globally. Continuing more than a 125-year history of innovation, ABB today is writing the future of industrial digitalization and driving the Energy and Fourth Industrial Revolutions. ABB operates in more than 100 countries with about 136,000 employees. www.abb.com