29 May 2018 – ABB launches new functionality for the ABB Ability™ Marine Advisory System – OCTOPUS, tailored to make the voyages of project cargo vessels more fuel-efficient and safer.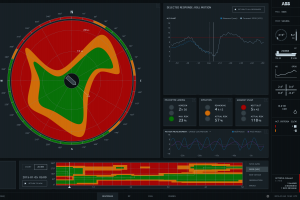 The latest addition to the OCTOPUS portfolio will help project cargo shipowners estimate the expected forces that the cargo will encounter in transit – without the need to preconfigure the system for each new project. This allows shipowners with lesser in-house engineering capabilities to cut costs on configuring the system, while delivering same high-quality motion forecasts as the traditional OCTOPUS setup.
Taking the estimated vessel responses into account will not only increase the safety for crew and cargo, but also allow for fuel savings and more reliable estimated time of arrival. Additionally, by focusing on core functionality for project cargo vessel operations, the newly released solution allows for better cost-efficiency for the owners.
A motion sensor installed on the bridge will allow for accurate insight into the pitch and roll motions of the vessel (rotation of a vessel about its axes), as well as into its velocities and accelerations. This data will help the crew quickly assess the potential impact of these conditions on the cargo and take necessary measures. All the key parameters will be available in real time on a single screen, giving the crew access to information needed to operate the vessel in the most optimal way. In the event of a threshold being exceeded, an alarm will be displayed.
"Our tailored offering for the project cargo segment reflects our commitment to working closely with the customers," said Juha Koskela, Managing Director, ABB Marine & Ports. "Taking customer feedback on board, we have developed this tailored ABB Ability functionality to meet the needs of the project cargo vessel owners across the globe and help them achieve higher levels of operational efficiency."
For more information please contact:
Media Relations
Margarita Sjursen
Phone: +47 45132617
Email: margarita.sjursen@no.abb.com
Investor Relations
Phone: +41 43 317 71 11
Email: investor.relations@ch.abb.com
ABB B.V.
Goldkampstraat 33-B
7722 RN Dalfsen
The Netherlands
ABB (ABBN: SIX Swiss Ex) is a pioneering technology leader in electrification products, robotics and motion, industrial automation and power grids, serving customers in utilities, industry and transport & infrastructure globally. Continuing a history of innovation spanning more than 130 years, ABB today is writing the future of industrial digitalization with two clear value propositions: bringing electricity from any power plant to any plug and automating industries from natural resources to finished products. As title partner of Formula E, the fully electric international FIA motorsport class, ABB is pushing the boundaries of e-mobility to contribute to a sustainable future. ABB operates in more than 100 countries with about 135,000 employees. www.abb.com