04 June 2019 – ABB adds dynamic positioning 2 (DP2) functionality to ABB Ability™ Marine Pilot Control, the solution that enhances vessel command execution and enables operators to focus on safer maneuvering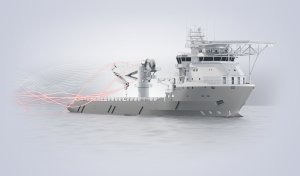 Designed to optimize vessel responsiveness, efficiency and safety across the entire operating profile, ABB Ability™ Marine Pilot Control allows deploying joystick control for maneuvering at all times, including around the berth.
Featuring model predictive control, ABB Ability™ Marine Pilot Control's superior maneuvering capability is built around predicting where the vessel will be in 5-30 seconds instead of measuring its position on arrival. Software calculates the optimum way of executing decisions across the operational profile, depending on how the operator has prioritized speed, maneuverability or other parameters.
Integrating DP2 functionality to ABB Ability™ Marine Pilot Control will add redundancy in technical design, ensuring that in the event of a single system fault, the vessel's position will be maintained. This functionality is particularly crucial for safe and reliable operation of construction and wind farm vessels working alongside fixed structures.
Launched in September 2018, ABB Ability™ Marine Pilot Control has been granted an Approval in Principle (AiP) certificate by Lloyd's Register, a leading international provider of classification, compliance and consultancy services to the marine industry. As announced at the maritime trade fair Nor-Shipping 2019, Lloyd's Register has extended the AiP to now include the precision DP2 functionality.
"Developments in digital technology are accelerating and Lloyd's Register is focused on supporting the safe adoption of system innovations that find new ways of addressing industry needs, such as DP," said Nick Brown, Marine & Offshore Director, Lloyd's Register. "Increasingly, we are seeing benefits to vessel safety, efficiency and sustainability from greater digital enablement. In extending the earlier AiP for ABB Ability™ Marine Pilot Control to include DP2, we are acknowledging it as a system with the redundancy to maintain position safely in the event of a single failure."
"Integrating DP2 capabilities into ABB Ability™ Marine Pilot Control underpins ABB's commitment to a stepwise journey towards autonomous operations," said Mikko Lepistö, Senior Vice President Digital Solutions at ABB Marine & Ports. "Our intelligent maneuvering and control system, now at the disposal of all types of DP2 vessels, provides seafarers with technologies that enhance their skillsets and support conning decisions."
As well as integrating new functionality in the solutions' human-machine interface, the DP2 performance draws on ABB's experience as a DP systems supplier and insights gained from supplying the propulsion technology on which they rely.
Rather than reacting to external conditions, ABB Ability™ Marine Pilot Control's DP optimizes energy efficiency against internal power plant status, thus adding value from the propeller up. This benefits responsiveness, efficiency and sustainability of vessel operations. As an example, accurate forecasts that a slight load peak will last a short time can avoid powering up another diesel generator.
In November 2018, ABB Ability™ Marine Pilot Control was the pivotal technology enabling trials of the ice-class ferry Suomenlinna II within a pre-selected area of Helsinki harbor that demonstrated how human oversight of vessels from anywhere is achievable using technologies in operation today.
ABB (ABBN: SIX Swiss Ex) is a pioneering technology leader with a comprehensive offering for digital industries. With a history of innovation spanning more than 130 years, ABB is today a leader in digital industries with four customer-focused, globally leading businesses: Electrification, Industrial Automation, Motion, and Robotics & Discrete Automation, supported by its common ABB Ability™ digital platform. ABB's market‑leading Power Grids business will be divested to Hitachi in 2020. ABB operates in more than 100 countries with about 147,000 employees.
For more information please contact:
Media Relations
Margarita Sjursen
Phone: +47 45132617
Email: margarita.sjursen@no.abb.com
JLA Media Ltd
Paul Hubbard
Phone: +44 208 405 6343
Email: paul.hubbard@j-l-a.com
ABB AS
Bergerveien 12
1396 Billingstad
Norway