23 February, 2015 (Zurich, Switzerland) – Newbuilds will feature OCTOPUS-Onboard fuel monitoring system to support the crew's decision-making.
Amarcon, an ABB Group company, today announced that the company will deliver SEEMP-compliant OCTOPUS-Onboard fuel monitoring systems for 12 Handysize bulk carriers that will be built by YangZhou GuoYu Shipbuilding Co., Ltd and delivered to the Singapore based owner Pioneer Marine Inc. in 2015 and 2016.
The Ship Energy Efficiency Management Plan (SEEMP) is an operational measure that establishes a mechanism to improve the energy efficiency of a ship in a cost-effective manner. It has been mandatory on all vessels since 2013.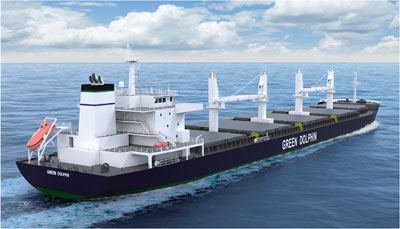 Pioneer Green Dolphin bulk carrier
ABB's SEEMP-compliant OCTOPUS-Onboard fuel monitoring set-up consists of Coriolis flow sensors, a Torductor torque measurement system and a software solution. By sending the sensor-measured data to the software, the OCTOPUS-Onboard system makes important fuel consumption indicators available to the vessel crew and the onshore operations department. This way the system supports the crew in decision-making and enables them to optimize the fuel efficiency of the vessel. The data collected from the sensors can also be analyzed later using the OCTOPUS-Online portal.
ABB's advisory solution allows Pioneer to take the fuel efficiency of the new vessels one step further: the vessels are of Green Dolphin design, which was created to reduce fuel consumption and to meet both current and future expected air and water emissions regulations.
"Safety of our people and protection of the environment are our top priorities. The OCTOPUS-Onboard advisory system compliments the Green Dolphin newbuild design and introduces a new dimension to ensuring optimal fuel efficiency. Accurate advice based on the sensor-measured information enables the crew to operate the vessel in the most fuel efficient manner, thus reducing our carbon footprint," says Pankaj Khanna, President and CEO of Pioneer Marine.
"Fuel consumption is the highest operational expenditure for each and every vessel of the global fleet, and one of the biggest environmental concerns. Our OCTOPUS-Onboard system helps ship operators to efficiently optimize the fuel consumption of their fleet while they also reduce their emissions," says Heikki Soljama, Managing Director for ABB's Marine and Ports business.
Newbuilds will feature OCTOPUS-Onboard fuel monitoring system to support the crew's decision-making.
About Pioneer Marine Inc.
Pioneer Marine Inc. is a leading shipowner and global drybulk handysize transportation service provider. Pioneer Marine currently owns twelve Handysize and one Handymax drybulk carriers with an additional 14 Handysize newbuildings on order for delivery in 2015. The Handysize Green Dolphins newbuildings are 'Eco' vessels designed by SDARI.
About Amarcon
Amarcon, a fully owned subsidiary of ABB, provides monitoring and forecasting software solutions for performance and availability optimization of sea-going vessels, and is the leader in vessel motion prediction solutions. ABB acquired Amarcon in august 2012 in order to strengthen its long-term growth strategy in vessel information and control systems. Amarcon and ABB offer the widest portfolio of marine advisory and optimization systems to the maritime market.
About ABB
ABB (www.abb.com) is a leader in power and automation technologies that enable utility, industry, and transport and infrastructure customers to improve their performance while lowering environmental impact. The ABB Group of companies operates in roughly 100 countries and employs about 140,000 people.
For more information
please contact:
ABB Media Relations:
Marine and Ports
Johanna Puustinen Tel. +47 91 87 86 73
johanna.puustinen@no.abb.com