3 April, 2017 (Billingstad, Norway) – ABB's marine and ports business will partner with Presserv to offer maintenance packages for vessels that serve the oil and gas industry that are laid-up for prolonged periods.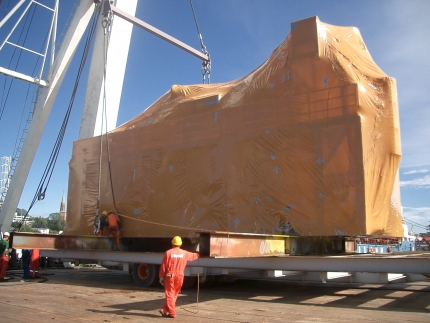 ABB and PresservThe two companies will combine specialized services to enable the preservation of equipment onboard, which will eventually allow the smooth and timely resumption of service. As part of the cooperation, ABB will utilize its Remote Diagnostic Service (RDS) to provide key data to optimize the care packages.
"It is a sign of the times that there is a strong demand for these services but we are always responsive to what our customers require," said Pål Nikolaysen, Head of the Offshore Service at ABB's marine and ports business unit. "Stacking is a special situation where expert advice and understanding of preservation is needed in order not to jeopardize the equipment and we are looking forward to collaborating with Presserv, which has a very good track-record in preservation."
Presserv is a specialized maintenance firm operating in the offshore oil and gas industry, offering the complete preservation of entire rigs and drill ships. The agreement means that ABB will maintain the onboard electrical systems on future projects, in effect giving the vessel owner a turnkey solution. Where it is available, ABB's RDS will provide real time data on important factors like temperature and humidity to enable the upkeep of equipment. ABB's Integrated Operations Centers will also monitor data produced by onboard equipment to anticipate any problems and to enable the swiftest and most efficient resumption of service.
ABB already offers its Stacking Care program that has seen significant uptake around the globe with a large number of drill ships in Korean shipyards utilizing the solution. Currently O&G vessels that are out of service can be warm stacked (ready to use but idle) whilst vessels that face longer term layoffs can be cold stacked (shutdown and stored).
"To team up with ABB with such a strong name in the electrification and automation side means that we can truly provide turn-key solutions for the customers," says Kristian Høvring , Business Line Manager at Presserv.
ABB (ABBN: SIX Swiss Ex) is a pioneering technology leader in electrification products, robotics and motion, industrial automation and power grids, serving customers in utilities, industry and transport & infrastructure globally. Continuing more than a 125-year history of innovation, ABB today is writing the future of industrial digitalization and driving the Energy and Fourth Industrial Revolutions. ABB operates in more than 100 countries with about 132,000 employees www.abb.com
Presserv is the leading specialist in preservation within the oil, gas and shipping industry globally. The company has developed unique solutions to take care of the customers' assets.