ABB provides Exolgan Container Terminal with pioneering technology for increased safety, productivity and data quality of cargo-handling processes, supporting the terminal's plans to future-proof its operations
With the new QuayPro module, ABB's optical character recognition (OCR) system not only automates identification of containers but also confirms the final stowage location on the vessel
The first solution of its kind to go live in the industry
25 May 2022 – Exolgan Container Terminal, which handles over 40 percent of the total container volume at the Port of Buenos Aires, has implemented ABB's Crane OCR with QuayPro module for all of its seven STS cranes. QuayPro automatically tracks the location of containers discharged from and loaded to a vessel, significantly increasing the accuracy of BAPLIE (bayplan/stowage plan occupied and empty locations message) files. The first solution of its kind to go live in the industry, ABB's QuayPro application has already improved the container terminal's cargo-handling processes since its implementation.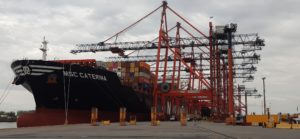 "Exolgan is currently in the midst of a technological transformation," said Duncan Glass, Terminal Manager, Exolgan Container Terminal. "As we look to respond to increasing container volumes and minimize physical risks to our personnel, we are enhancing our processes to boost productivity and improve safety. ABB's OCR technology with QuayPro on our ship-to-shore cranes has proven pivotal in this regard and represents a major milestone on our roadmap to the future."
Adding QuayPro to ABB's Crane OCR increases productivity by streamlining the cargo-handling process, with stowage confirmation of containers loaded onto and discharged from a vessel, and the delivery of visual and audio work instructions to the crane operator. By reducing the risk of human error, stow plans are tracked and checked in real time and can be adjusted on the fly.
"Whereas in a traditional set-up, dock clerks move around the terminal and ship to record information manually and prepare a list of instructions for the crane operator, ABB automates the entire process for efficiency, flexibility and reduced risk," said Richard Micheli, Product Line Manager, OCR, ABB Marine & Ports. "QuayPro also provides instructions for the crane operator on where to place the containers, using business logic to adapt to changing conditions, and record the container's location to facilitate tracking. Allowing key tasks to be executed remotely minimizes the risk of accidents at the terminal."
ABB's full scope of supply for the seven STS cranes comprises OCR hardware and software enabling complete traceability of damaged containers and seal presence images of the load/discharge of containers; the QuayPro module including the 'CabView' features for accurate, real-time overviews of the bay as well as queued work instructions; and an Exception Management software application, which notifies the exception handler of any critical variations from the stowage plan.
"We are proud to have completed the first implementation of QuayPro and pleased with the significant impact it has had on Exolgan's operations," said Richard Micheli, Product Line Manager, OCR, ABB Marine & Ports. "The solution is completing the process of automated container handling meeting the demands to manage bigger vessels and container volumes more efficiently. It will be a vital component in our objective to help make global container terminals become safer, greener and more productive."
Exolgan Container Terminal – video
ABB (ABBN: SIX Swiss Ex) is a leading global technology company that energizes the transformation of society and industry to achieve a more productive, sustainable future. By connecting software to its electrification, robotics, automation and motion portfolio, ABB pushes the boundaries of technology to drive performance to new levels. With a history of excellence stretching back more than 130 years, ABB's success is driven by about 105,000 talented employees in over 100 countries. www.abb.com
ABB's Process Automation business is a leader in automation, electrification and digitalization for the process and hybrid industries. We serve our customers with a broad portfolio of products, systems, and end-to-end solutions, including our # 1 distributed control system, software, and lifecycle services, industry-specific products as well as measurement and analytics, marine and turbocharging offerings. As the global #2 in the market, we build on our deep domain expertise, diverse team and global footprint, and are dedicated to helping our customers increase competitiveness, improve their return on investment and run safe, smart, and sustainable operations. go.abb/processautomation