Growing cruise market and significant Arctic projects boost ABB's marine solution sales.
21 January, 2015 (Zurich, Switzerland) – ABB, a global leader in power and automation technology, has received record levels of new orders for the marine part of the group's business, driven by solid growth in demand for electrical propulsion systems especially in the cruise and ice-going segments.
In 2014, the company won orders worth $ 200 million to deliver power plants and Azipod® propulsion systems to cruise customers and $ 900 million to deliver solutions to icegoing and icebreaking projects.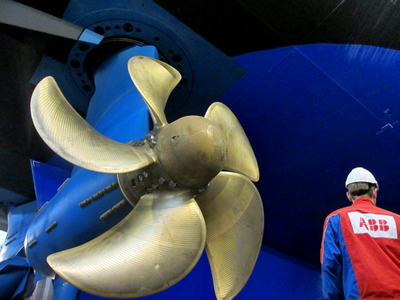 The cruise market, where electric podded propulsion is the preferred propulsion type, has seen a significant growth in recent years especially in emerging markets. During 2014, ABB secured a number of orders with leading shipyards to deliver latest generation Azipod XO propulsion systems to high-end cruise vessels. In addition to repeat orders from longstanding customers, ABB won strategically important contracts to supply Azipod propulsion units to new customers.
Arctic shipping volumes and oil and gas exploration in the Arctic area have reached record level, creating the need for specialized solutions for icegoing and icebreaking vessels. In the Arctic conditions, Azipod VI propulsion units optimize vessel efficiency and maneuverability while they also provide a high level of reliability to operations in the harsh and demanding conditions.
"ABB developed the Azipod® electrical propulsion system to deliver tangible benefits to shipowners and operators: To improve the overall efficiency of ships while also reducing the carbon footprint and providing better maneuverability compared to conventional propulsion solutions. This explains why ABB has become the leader in electric propulsion and continues to harvest from increased demand across several vessel segments, cruise and arctic shipping in particular," says Heikki Soljama, Managing Director of ABB's Marine and Ports business. "While being a record year for Azipod sales, 2014 also marked another year of significant growth for diesel-electric propulsion. The tangible benefits of electric propulsion explain why during the last decade, the electric fleet has seen annual growth of 13%."
"With a long history of cooperation, Lloyd's Register welcomes the current success of ABB in delivering diesel electric and podded propulsion solutions for the cruise, off-shore and increasingly arctic market segments. Since the first installation of ABB podded propulsion units on-board the Carnival Elation in 1997, Lloyd's Register has worked closely with ABB to realise the performance and reliability of the AZIPOD unit and looks forward to many more years of continued cooperation," says Ed Fort, Global Technology Leader, Lloyd's Register.
In addition to Azipod propulsion system, ABB offers a wide range of marine solutions that improve the energy efficiency of vessels. "Energy efficiency has always been one of our key business drivers, and customers benefit by partnering with one experienced supplier offering integrated power and automation, and energy management," Soljama adds.