23 June, 2016 (Singapore) – Latest Integrated Operations Center in Singapore will allow ABB engineers to follow the sun and improve client service.
ABB is opening a new integrated Operations Center in Singapore, the third facility of its type, which will allow the company's expert engineers to follow the sun across the globe. Typically, at the end of the working day, the Singapore Center will handover to colleagues in Norway and Finland and this process will continue across the globe when a new Integrated Operations Center is opened in the US later this year.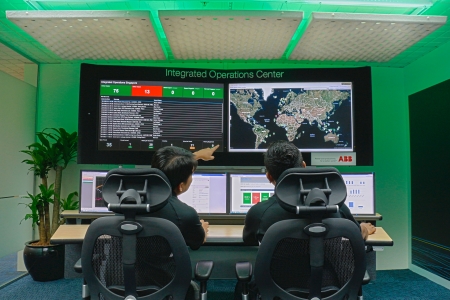 The Integrated Operations Center is a realization of ABB's principle of the Internet of Things, Services and People. Sensors and software onboard a ship send equipment and performance data via satellite link which allows ship owners, in collaboration with ABB's experts, to monitor the performance of whole fleets. At the Center, ABB can analyze data and work with the ship's onboard and shore-side team to plan maintenance and troubleshoot.
"The opening of the new Integrated Operations Center in Singapore will ensure the very best service for our clients," said Mahesh Krishnappa, VP Local Business Unit Manager for ABB's marine and ports business in Singapore. "Our service engineers are available 24/7 but there are clear benefits for customers when they can speak to an engineer who is working during regular working hours with a ships data in front of them."
"The Center we're opening is just one example of how our advanced technologies can help Singapore become a Smart Nation, whether it is in transport and infrastructure, industry or utilities, enabling productivity, efficiency and sustainable development." said Johan de Villiers, Managing Director of ABB in Singapore and South East Asia.
When using ABB's Integrated Operations, ship owners can implement a way of working that saves up to 50% on dry docking costs on ABB equipment if monitoring, pre-survey, and project execution are managed in close cooperation between ABB and the ship owner. Data is collected from systems and used as input and maintenance work during dry dockings.
Richard Windischhofer, SVP Integrated Operations at ABB's marine and ports business unit said "ABB's Integrated Operations Center is a real world consequence of big data and increasing connectivity in the shipping world. We have only scratched the surface of what this could mean in the future but the addition of the Singapore facility will increase our capacity to create smarter services."
ABB can currently connect to around 600 ships.
Video:
Inside ABB's first Integrated Operations Center
About
Integrated Operations
ABB's digital solutions connect the ship's crew with their technical & nautical departments in the office, and ABB as the supplier of mission-critical systems. http://new.abb.com/marine/integratedoperations
About
ABB
ABB (www.abb.com) is a leading global technology company in power and automation that enables utility, industry, and transport & infrastructure customers to improve their performance while lowering environmental impact. The ABB Group of companies operates in roughly 100 countries and employs about 135,000 people.