Tuesday 6 September (Helsinki, Finland) – Linear flow Azipod XL has potential to save maritime industry millions of tons of fuel
ABB is launching a new Azipod propulsion unit that is up to 10 percent more efficient than previous versions. Azipod propulsion is the shipping industry's leading podded electric propulsion system and ABB believes the improved efficiency and bollard pull will expand its appeal beyond established strong markets. The new linear flow Azipod XL achieves this jump in efficiency by introducing a nozzle with stator plates, which directs the water flow from the propeller to reduce the turbulence and energy loss and to give the optimum thrust for the vessel.
The Azipod XL represents the biggest jump in the systems' fuel efficiency in recent years. To put it in perspective, if the newest model replaced all existing Azipod units it would save the shipping industry 2.2 million tons of fuel, and 7 million tons of carbon dioxide, over the next 25 years. It is a quarter of a century since the first installation of an Azipod unit, and in that time they have racked up more than 12 million running hours, saving 700,000 tons of fuel in the process.
"The new Azipod XL is completely in step with the needs of the maritime industry. Ship owners always want solutions which improve their bottom line whilst more stringent emission regulations are pushing operators to utilize the most efficient propulsion system possible," says Juha Koskela, Managing Director of ABB's Marine and Ports business.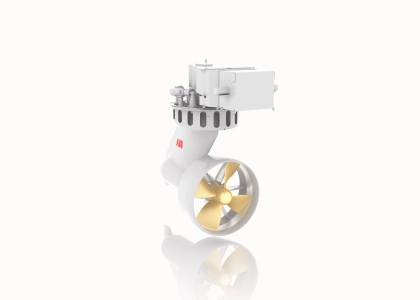 One of the strengths of the modifications is that they are relatively simple meaning there will be no compromise to Azipod propulsion's excellent availability record, currently standing over 99.8%. Azimuth propulsion works by drawing water into the propeller and pulling the vessel, therefore the addition of a nozzle will optimize the water flow as it leaves the propeller. All the improvements have been tested extensively using scaled versions in laboratory conditions.
"Azipod propulsion is widely used in the cruise industry and on many complex specialized offshore vessels" says Koskela. "However improved fuel efficiency and bollard pull of the Azipod XL will increase its competitiveness into new sectors such as tugs, ferries and LNG tankers."
The Azipod XL concept can be designed to give high bollard pull thrust at lower speed and still have good characteristics at higher speeds. This improved performance along with better fuel efficiency and 360-degree maneuverability makes the Azipod XL ideal for a wider range of vessels.
ABB's focus on ship connectivity will also benefit the new model. Smart sensors installed in the units send data to ABB's Integrated Operations Centers, allowing ABB and the customer to gain insight into important aspects of the Azipod unit that are vital for maintenance.
See us at SMM Hall A3 Stand 202
Videos:
Introducing the Azipod XL
Meet the Experts: Azipod XL
About
ABB
ABB (www.abb.com) is a leading global technology company in power and automation that enables utility, industry, and transport & infrastructure customers to improve their performance while lowering environmental impact. The ABB Group of companies operates in roughly 100 countries and employs about 135,000 people.
For more information
please contact:
ABB Marine and Ports
Peter Lovegrove
Media Relations Manager
Tel. +47 409 04 294
peter.lovegrove@no.abb.com