15 November, 2017 (Helsinki)– With this new approach, ABB focuses on harnessing the full potential of its power, control and automation solutions through a program of digital integration that will bring about a step change in vessel and fleet management.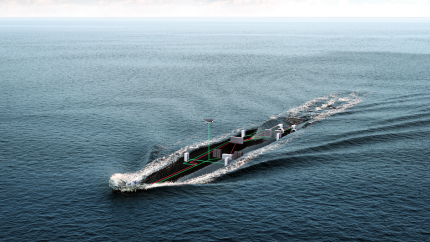 ABB sets out electric digital connected approach for shipping
"We are living through one of the most exciting periods in the history of the maritime industry," says Juha Koskela, Managing Director, ABB Marine & Ports. "We believe the next generation of ships will be electric, digital and connected as the industry moves towards the use of new energy sources and automated ship operations. Electric. Digital. Connected. encapsulates ABB's drive to deliver solutions that make the maritime industry safer, more efficient and more sustainable based on a holistic perspective."
Ships featuring pure electric power and propulsion are simpler in terms of layout compared to those running on combustion engines alone, and less exposed to wear and tear. Today, more than 1300 ships employ ABB electric systems, achieving up to 20% efficiency gains over conventional shaftline systems.
The automotive industry's wider adoption of hybrid electric systems and autonomous control sets the stage for the anticipated developments in the maritime industry. Based on greater efficiency and sustainability, electric propulsion will become a maritime imperative rather than an alternative. Electric power plants on board vessels optimize fuel consumption, maximize operational flexibility and allow for new energy sources, such as batteries and fuel cells. There is already evidence of this in place. Last week, ABB announced the delivery of the first fuel cell system for Royal Caribbean.
"Electric power and propulsion systems also provide a unique platform for digitalization," says Mikko Lepisto, Head of Digital Solutions at ABB Marine & Ports. "They are inherently connected, which makes it significantly easier to apply automation and software solutions. This allows our customers to collect and analyze more data, make better decisions and ultimately improve performance. Furthermore, greater connectivity to shore and ever-increasing computing power, including machine learning, make it possible to exploit advanced analytics that feed into tools for energy efficiency and maintenance optimization."
For shipyards, too, the case for more electric, digital and connected ships is compelling. "Because we integrate our electric, automation and digital solutions in the design phase, shipyards can reduce cost, schedule and risk," Lepisto continues.
ABB has already invested heavily in shore-side expertise, advanced analytics, software solutions and engineering availability. ABB Ability™ is a suite of digital and connected solutions that includes ABB Ability™ Marine Advisory System – OCTOPUS vessel operations and energy management optimization, for example. More than 700 vessels are already connected to ABB Ability™ Collaborative Operation centers, availing themselves of 24/7 troubleshooting, maintenance planning, benchmarking, and predictive interventions, improving overall vessel performance.
About:
ABB (ABBN: SIX Swiss Ex) is a pioneering technology leader in electrification products, robotics and motion, industrial automation and power grids, serving customers in utilities, industry and transport & infrastructure globally. Continuing more than a 125-year history of innovation, ABB today is writing the future of industrial digitalization and driving the Energy and Fourth Industrial Revolutions. ABB operates in more than 100 countries with about 136,000 employees. www.abb.com