10 November, 2016 (Helsinki, Finland) – Partnership with Wuchang Ship Building Group will focus on developing green vessels and digital technologies. ABB has signed a formal agreement with Wuchang Ship Building Group to deepen cooperation with an emphasis on developing greener ships and digital solutions. By utilizing ABB's power and propulsion expertise along with its focus on maritime software, the partnership will help Wuchang Ship Building Group manufacture highly efficient and technologically advanced vessels.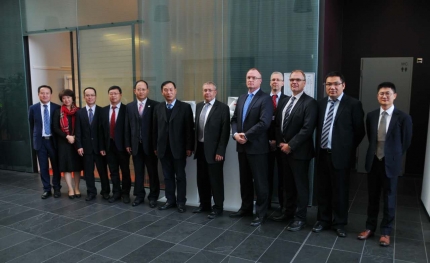 "Chinese shipyards are diversifying their portfolios and ABB's long history of working in the icebreaking and cruise sectors is particularly relevant to China's ship builders," said Alf Kare Adnanes, head of ABB's Marine and Ports business in China. "We are excited about the benefits this agreement will bring to both ABB and Wuchang Ship Building Group"
Wuchang Ship Building Group is one of the most important shipyards in China with experience in building research and offshore vessels.
"ABB has been operating successfully in China since the 1970's and we opened the Azipod propulsion factory in Shanghai in 2011," said Juha Koskela, Managing Director of ABB's Marine and Ports business. "This agreement is a result of our commitment to the Chinese market and it will lead to a new generation of greener and smarter vessels being built in China."
ABB 与国内船企签署战略合作协议
携手武昌船舶重工集团有限公司共同开发绿色船舶和数字技术
2016年10月XX日芬兰赫尔辛基讯 — ABB与武昌船舶重工集团有限公司签署正式协议,以深化双方在开发绿色船舶和数字解决方案领域的合作。借助ABB在电力和推进领域的专业知识及其海事软件实力,这一合作关系将有助于武船打造高效、高科技的船舶。
"ABB船舶及港口业务多年来在国内开展顺利,并于2011年在上海临港建立Azipod生产基地,"ABB船舶及港口业务全球总裁Juha Koskela说,"这份协议是我们在国内市场辛勤耕耘的结果,将推动国内造船业进入更环保、更智能的新时代。"
武昌船舶重工集团有限公司是中国最重要的造船厂之一,具有丰富的建造研究和近海船舶的经验。
"国内船企正在不断丰富产品线,而ABB悠久的破冰船和邮轮从业历史深受国内造船厂推崇,"ABB船舶及港口业务中国区负责人欧德纳说,"这份协议必然让双方受益匪浅,对此我们倍感兴奋。"
About
ABB
ABB (ABBN: SIX Swiss Ex) is a pioneering technology leader in electrification products, robotics and motion, industrial automation and power grids, serving customers in utilities, industry and transport & infrastructure globally. Continuing more than a 125-year history of innovation, ABB today is writing the future of industrial digitalization and driving the Energy and Fourth Industrial Revolutions. ABB operates in more than 100 countries with about 135,000 employees. www.abb.com
About Wuchang
Shipbuilding Industry Group
Wuchang Shipbuilding Industry Group Co. Ltd ("WSIG"), an affiliate of China Shipbuilding Industry Corporation, is a typical large modernized & integrated enterprise that provides products & services for both the military and the civilians, and develops in many diversified but related fields. It was founded in 1934. Now WS boasts over 11000 employees and covers an area of 6,000,000 square meters.
关于
ABB
ABB (ABBN: SIX Swiss Ex) 是电气化产品、机器人和运动、工业自动化和电网的创新技术领导者,竭诚服务于全球公共事业、工业、运输和基础设施的广大客户。40多年来,ABB正在书写工业数字化的未来。凭借7万多套装机量,控制系统连接超过7000万套设备,涵盖各行各业,使得ABB始终走在能源和第四次工业革命的前列。ABB传承超过130年,业务范围遍及100多个国家和地区,拥有员工约135000人。www.abb.com
关于武昌船舶重工集团
武昌船舶重工集团有限公司(简称武船)隶属于中国船舶重工集团,是一家大型现代化综合性企业,同时提供军用和民用产品及服务,涉足多个相关领域。武船始建于1934年,现有员工超过1.1万人,占地面积600万平方米。