October 27th 2015 (Zurich, Switzerland): Next generation of maritime technology will be developed with ship owners at high technology facility in Helsinki, Finland.
ABB, the leading power and automation group, has strengthened its commitment to research and development in the marine sector by opening a new laboratory. Situated in Helsinki, next to the Azipod® factory, it will bring together all ABB's offerings for the shipping industry under one roof. ABB has invested significant funds in the scheme, which will be used by the 30 ABB engineers dedicated to marine research in Helsinki as well as to demonstrate products to customers.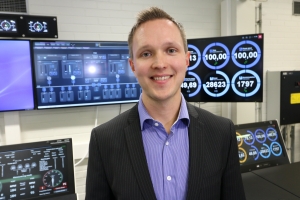 Mikko Lepistö, Vice President of software and automation operations at ABB
"We are constantly testing and developing new technologies. This laboratory is a wonderful step forward and enables a full range of innovation activities, now that all of our marine systems can be tested and developed in the same place," says Mikko Lepistö, Vice President of software and automation operations at ABB.
It will support the pillars of ABB's marine technologies including automation, remote control systems, propulsion, integrated operations and waste heat recovery systems. In the future it will also have the possibility to function as a simulator.
The laboratory is designed to meet the needs of the customer. Heikki Soljama, managing director of ABB's Marine and Ports business unit, commented, "R&D is as important as ever for the shipping industry. The challenges facing the whole sector are well documented and now is the time for innovation and new solutions; this lab will help us achieve that goal. Ultimately, though, we will be responding to the needs of the industry and the desire for cost efficiency, reliability and safety will always be key."
The lab will fully utilize the Integrated Operations concept which joins up the shore operation to what happens onboard, an outcome of ABB's commitment to the Internet of Things, Services and People*. "Digitalization allows owners to monitor remotely entire fleets using cloud services. When data collected by automation systems is utilized in the most optimal way, we can save both costs and environment. The Internet of Things, Services and People opens new possibilities for the marine industry and especially for the development of the service business," Lepistö says.
*Internet of Things, Services and People
ABB has been advancing technologies for the "Internet of Things, Services and People" for more than a decade via its control systems, communication solutions, sensors and software. Its technologies allow industry, utility and infrastructure customers to make more intelligent use of data to optimize their operations, increase productivity and achieve greater flexibility. The development featured in this release extends the offering of ABB in this field. Further information about this topic can be found here: http://new.abb.com/about/technology/iotsp
Interview:
https://www.youtube.com/watch?v=7HF4NstHkrM&feature=youtu.be
About ABB
ABB (www.abb.com) is a leader in power and automation technologies that enable utility, industry, and transport and infrastructure customers to improve their performance while lowering environmental impact. The ABB Group of companies operates in roughly 100 countries and employs about 140,000 people.