10 April 2019 – Sustaining its strong track record in the expedition ship market, ABB secures power and propulsion contract for the two debut Seabourn ultra-luxury expedition vessels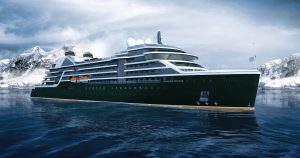 The contract covers two 170-meter length ships due delivery to the Seattle-based cruise company from Italian yard T. Mariotti, in June 2021 and May 2022 respectively.
Seabourn has chosen ABB's proven power and propulsion technology for the 23,000gt ships that integrates main generators, switchboard, convertors, bow thruster motors and the remote control system in a single package, plus twin 6MW Azipod® propulsion units.
Built to strict Polar Code 6 hull specifications, the 264-passenger capacity vessels have been designed for the ultra-luxury polar expedition market. Utilizing the Azipod® propulsion system frees up space on board, allowing these vessels to carry additional crafts such as kayaks, rubber boats and a pair of submarines – from Antarctica to Arctic and other exotic destination.
"The selection of ABB's Azipod® propulsion was a natural decision for Seabourn because, in conjunction with our PC6 ice strengthened hull, they will provide excellent maneuverability and operational control in the polar and other regions around the globe," said Rick Meadows, president of Seabourn. "Azipod® propulsion also means lower levels of vibration, which is a major plus for guest comfort. As a UNESCO World Heritage cruise partner, Seabourn also values the fact that Azipod® units enable sustainable operations."
"As always, the owner is closely involved in all aspects; and as always, technical choices have been driven by the need for safe, reliable and sustainable operations for guests," says Marco Ghiglione, Managing Director, T. Mariotti. "We are delighted to work with ABB on this high-end project as their expertise in cruise and icegoing segments, as well as local presence in Genoa, complements our shipbuilding capabilities in the most optimal way."
Azipod® propulsors have become the preferred solution for expedition ships in challenging conditions. To date, more than 20 exploration cruise ships have been specified with ABB's Azipod® propulsion.
The vessels will be connected to ABB Ability™ Collaborative Operations Center infrastructure, which monitors the performance of ABB technology on board and remotely connects operators with ABB experts – something that is particularly important for ships operating in remote areas.
"With their exclusive, private club atmosphere and a range of sophisticated design features, these ships will be some of the most innovative in the expedition cruise market," says Marcus Högblom, Head of Passenger Vessel segment at ABB Marine & Ports. "It is pleasing that Seabourn, a high-end cruise client, has opted for an extensive ABB power and propulsion package that plays into the benefits of our integrated electric, digital and connected capabilities."
ABB (ABBN: SIX Swiss Ex) is a pioneering technology leader with a comprehensive offering for digital industries. With a history of innovation spanning more than 130 years, ABB is today a leader in digital industries with four customer-focused, globally leading businesses: Electrification, Industrial Automation, Motion, and Robotics & Discrete Automation, supported by its common ABB Ability™ digital platform. ABB's market‑leading Power Grids business will be divested to Hitachi in 2020. ABB operates in more than 100 countries with about 147,000 employees.
For more information please contact:
Media Relations
Margarita Sjursen
Phone: +47 45132617
Email: margarita.sjursen@no.abb.com
JLA Media Ltd
Paul Hubbard
Phone: +44 208 405 6343
Email: paul.hubbard@j-l-a.com
ABB AS
Bergerveien 12
1396 Billingstad
Norway