30 April 2018 – ABB technology allowing integration of batteries receives major vote of confidence as Louis Dreyfus Armateurs orders second wind farm service vessel featuring a wide scope of ABB's solutions.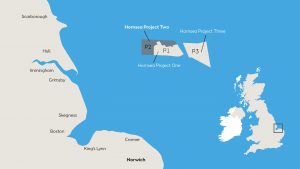 Maritime transportation group Louis Dreyfus Armateurs (LDA) will add a second 83m windfarm service operation vessel (SOV) to its fleet, featuring an extensive range of ABB's technology, with the award-winning power distribution system Onboard DC GridTM at its core. The vessel will support operations at Hornsea Project Two off the UK coast, which, upon completion in 2022, will become the world's biggest wind farm capable of powering over 1.3 million homes.
ABB's Onboard DC GridTM enables simple, flexible and functional integration of energy sources, such as batteries and fuel cells, and empowers the efficiencies associated with variable speed generator operation.
In addition to Onboard DC GridTM, the ABB scope of supply includes tunnel thrusters, generators, transformers, batteries, ABB Ability™ Marine Advisory System – OCTOPUS and ABB's Remote Diagnostics Services. ABB will also provide its Power and Energy Management System (PEMS), which allows battery power to act as backup for running generators, again cutting the need to run spare capacity, and reducing maintenance and fuel consumption in the long-term.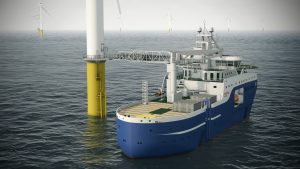 "LDA is positioning itself at the forefront of the wind farm service sector in vessel performance and efficiency," says Hervé Lapierre, Head of Newbuilding Department at LDA. "Wind farm service requirements are still evolving, meaning that SOVs built for this market, in addition to being cost-effective, need to also be innovative and flexible."
Onboard DC GridTM solution enables variable speed technology to dynamically optimize system energy use in line with the load situation, which results in a 20% cut in fuel consumption. Power from the dual batteries on board will be introduced to maximize efficiency, and the energy stored can come from a variety of sources, including renewables. DC distribution also provides a unique platform for digital solutions, so that data from equipment sensors can be transmitted between systems instantaneously, and bridge or shore-based systems can monitor and optimize vessel performance.
"The second order from LDA feels like a validation of the performance, cost efficiency and safety that ABB delivers through its 'Electric. Digital Connected' approach," – says Juha Koskela, Managing Director, ABB Marine & Ports. "We are proud to deliver the technology that enables the use of stored energy for a vessel supporting the renewables industry."
The vessel, designed by Salt Ship Design, will be built at Turkey's CEMRE Shipyard. Like its predecessor, ordered in 2017, the second LDA vessel will be on contract with Ørsted A/S, the largest energy company in Denmark.
For more information please contact:
Media Relations
Margarita Sjursen
Phone: +47 45132617
Email: margarita.sjursen@no.abb.com
Investor Relations
Phone: +41 43 317 71 11
Email: investor.relations@ch.abb.com
ABB B.V.
Goldkampstraat 33-B
7722 RN Dalfsen
The Netherlands
ABB (ABBN: SIX Swiss Ex) is a pioneering technology leader in electrification products, robotics and motion, industrial automation and power grids, serving customers in utilities, industry and transport & infrastructure globally. Continuing a history of innovation spanning more than 130 years, ABB today is writing the future of industrial digitalization with two clear value propositions: bringing electricity from any power plant to any plug and automating industries from natural resources to finished products. As title partner of Formula E, the fully electric international FIA motorsport class, ABB is pushing the boundaries of e-mobility to contribute to a sustainable future. ABB operates in more than 100 countries with about 135,000 employees. www.abb.com