13 February 2019 – New electric ferry to operate on an Icelandic route known for its harsh weather conditions will benefit from efficiency and sustainability enabled by ABB's technology.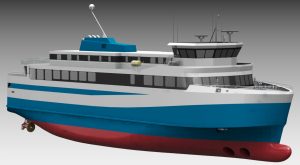 ABB will supply integrated power and electric storage solutions to the Icelandic Road and Coastal Administration's new ferry that will take 3,600 annual trips in the rough waters between Landeyjahöfn on the mainland and the Westman Island, covering 13 km in about 45 minutes.
The 70m-long ferry, with a capacity of 550 passengers and 75 cars, is designed by Polarkonsult and is due for delivery from the Crist S.A. shipyard in 2019. The vessel will feature a large battery pack (3000kWh) and is designed to operate in a fully electric mode for most of time, with onshore charging in both harbors. During particularly challenging weather conditions, when the consumption of battery power may exceed the available energy, the ferry will utilize its diesel-electric generator set.
The new ferry will replace the 1992-built MF Herjólfur in line with Iceland's incentives to promote electric modes of transportation. With 80 percent of Iceland's energy coming from non-fossil resources, led by hydropower and geothermal energy, the newbuilt vessel will be well positioned to support Iceland's sustainability goals.
"Opting for ABB's electric solutions allows the vessel to meet design constraints that initially seem in conflict: it is optimized for cleaner operation and reduced greenhouse gas emissions, whilst power is sufficient to navigate some very hazardous waters safely," said Sigurdur Gretarsson, Director of Maritime Division, Icelandic Road and Coastal Administration.
ABB's power distribution system Onboard DC GridTM will ensure the high efficiency of the new ferry by allowing the batteries to connect directly to the DC link, which helps avoids losses of power during charging and discharging. Additionally, the system can allow for variable speed operation of the diesel engines, which results in reduced fuel consumption.
The scope of ABB supply also includes generators, transformers, switchboards, the Power and Energy Management System (PEMS) and the Energy Storage Control System (ESCS). The ferry will be connected to ABB Ability™ Collaborative Centers Infrastructure. This network uses remote equipment monitoring and data analytics to enable remote technical support, as well as predictive maintenance and planned interventions.
Crucial to the supporting infrastructure shoreside is the shore power connection delivered by ABB to recharge the battery with a power of 2500kW while the ferry is in the dock. On average, it will take about 30 minutes to recharge.
"Selection of ABB's technologies for a vessel operating on such a tough route, where the water depth is sometimes limited to 4.5 meters, but wave heights can reach 3.5 meters, sets a new benchmark for battery power on board a ship," said Juha Koskela, Managing Director, ABB Marine & Ports.  "In line with our vision for electric, digital and connected shipping, this project demonstrates how system integration – whether on board the ship or between the ship's crew and shoreside expertise – is a key success factor for vessel management."
The new ferry will not only reduce the environmental impact, but also improve the regularity of the connection. Previously, during rough weather, the ferry operating the route would travel to an alternative harbor to dock safely, extending the sailing time from 45 minutes to close to 3 hours and causing motion sickness in passengers. The new ferry will be able to enter the destination harbor in challenging weather conditions most of the time, with the rare exception of particularly rough seas.
ABB (ABBN: SIX Swiss Ex) is a pioneering technology leader in power grids, electrification products, industrial automation and robotics and motion, serving customers in utilities, industry and transport & infrastructure globally. Continuing a history of innovation spanning more than 130 years, ABB today is writing the future of industrial digitalization with two clear value propositions: bringing electricity from any power plant to any plug and automating industries from natural resources to finished products. As title partner in ABB Formula E, the fully electric international FIA motorsport class, ABB is pushing the boundaries of e-mobility to contribute to a sustainable future. ABB operates in more than 100 countries with about 147,000 employees. www.abb.com
For more information please contact:
Media Relations
Margarita Sjursen
Phone: +47 45132617
Email: margarita.sjursen@no.abb.com
JLA Media Ltd
Paul Hubbard
Phone: +44 208 405 6343
Email: paul.hubbard@j-l-a.com
ABB AS
Bergerveien 12
1396 Billingstad
Norway