January 27, 2011 – Smart energy tool to provide substantial fuel savings for environmentally friendly cruise ferry, helping it reach a target of zero marine emissions.
ABB, the leading power and automation technology group, has won an order to provide an energy management system for one of the world's most environmentally friendly cruise ferries, which is due to be delivered to Viking Line in 2013. The ship is being built in Finland at the STX Yard in Turku.
The new cruise ferry, a 214 meter vessel with a top speed of 22 knots, will have the capacity to carry 2,800 passengers and will serve the route connecting Turku, Finland and Stockholm, Sweden. In line with Viking Line's environmental commitments, the new generation ferry will use liquefied natural gas as its fuel, which will be a first for a passenger vessel of this size. Through efficient use of this fuel, the ship will have extremely low emissions and virtually zero marine emissions.
Viking Line chose ABB's energy management system for marine applications software – EMMA, which is a part of ABB's marine automation and control offering, to help manage energy-related processes, practices and decisions on the new ferry, to use fuel efficiently from the very first day of operation.
"One of the top priorities at Viking Line is to lower the emissions and fuel consumption on our fleet . We were looking for a good monitoring tool that automatically regulated power consumption and was as easy to operate as a traffic light as a result ABB's EMMA became our first choice," said Kari Granberg, Project Manager at Viking Line Abp.
EMMA is based on ABB's field-proven process automation software for energy management, which has been deployed to more than 60 process industry customers.
"We are committed to the development of cutting-edge technology for our marine customers so that they can meet their operational efficiency and environmental goals," said Veli-Matti Reinikkala, head of ABB's Process Automation division. "EMMA is a tool that draws on the successes of energy management systems in the process industries and applies them to the specific challenges faced by ship operators."
ABB's scope of supply to Viking Line includes EMMA software, which compares and analyzes the historical and current operational data of the vessel, then calculates and advises on areas for improvement with easy-to-understand displays. It also includes an extended energy management tool that models energy consumption and calculates optimal operating conditions, so that ships can perform at the highest possible fuel and energy efficiency.
ABB's Process Automation division delivers industry specific solutions and services for industrial automation and plant electrification. These solutions help customers meet their critical business needs in the areas of energy efficiency, operational profitability, capital productivity, risk management, and global responsibility. Available industry specific solutions include process control, instrumentation, analytics, safety, plant optimization, telecommunications, energy management and power distribution.
ABB (www.abb.com) is a leader in power and automation technologies that enable utility and industry customers to improve performance while lowering environmental impact. The ABB Group of companies operates in around 100 countries and employs about 130,000 people.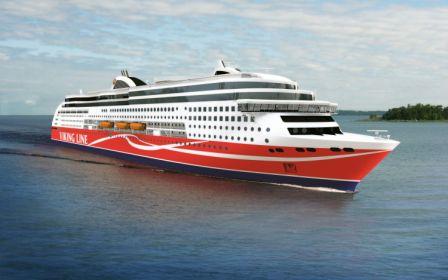 Viking Line ferry model
For more information
please contact:
ABB Process Automation Media Relations:
Laura Patrick
Office: +1.585.889.7146
Mobile: +1.585.733.4958
email:laura.m.patrick@us.abb.com