Offshore construction vessel order is the first to include ABB's integrated power and automation solution consisting of ABB's advanced power, propulsion and 800xA control and safety system.
8 December, 2014 (Zurich, Switzerland) – ABB, a global leader in power and automation technology, will deliver a cutting-edge solution which includes electrical propulsion, power, safety and automation systems.
These systems will be integrated and run on a single control system platform for a 5000T heavy-lift pipelay construction vessel. By integrating power and automation on the vessel, overall efficiency, safety and reliability will be increased. This is the first time ABB deliver power and propulsion system fully integrated with the 800xA automation solution for this type of vessel. The state-of-the-art vessel, will be built by Wuchang Shipbuilding Industry Group Co., Ltd (WSIC).
ABB-wins-milestone-contract-with-Wuchang-ShipbuildingABB's integrated marine solutions combine advanced power and automation technologies to meet the stringent demands of today's shipyards and vessel owners. ABB's engineers together with marine and vessel experts develop innovative solutions that respond to the industry's greatest challenges.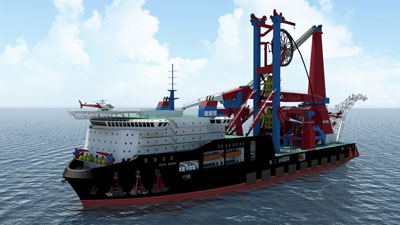 This type of vessel is used in ultra-deep waters and requires highest levels of accuracy, precision and availability. Hence, the owner and operators required more integration and easier interface for multi- system control. The ABB response will combine electric propulsion and electrical & automation systems to be integrated and controlled by ABB's flagship System 800xA distributed control system (DCS) platform. Additionally, ABB's advanced power system is capable of achieving the requirements needed to run the solution with closed bus in DP3 operations.
"Modern ships feature an increasing number of advanced systems, such as power, automation, advisory and safety. When all these systems are integrated, the advantages are significant: reduced investment costs, optimized maintenance, improved power control and equipment availability. The selection of ABB's integrated solution for a demanding project like this is a strong endorsement of our offering," says Heikki Soljama, head of ABB's business unit Marine and Cranes.
The vessel will be delivered in Q1 2018, and is designed for pipelaying, heavy lifting and subsea construction operations and extends expertise into the deepwater market. Deepwater operations require uncompromised reliability and by integrating electric power, propulsion, onboard processes and asset and performance management systems, the overall vessel effectiveness, availability and safety are increased.
About WSIC
WSIC, subordinated to China Shipbuilding Industry Corporation (CSIC) and founded in 1934, is a large-scale modernized & integrated enterprise committed to shipbuilding and offshore, as well as an important military product manufacturing base in China.
WSIC occupies a total area of 3,000,000m2 and possesses 15 sub-companies, 1 joint venture company, 2 public institutions and 4 manufacturing departments with total assets of about CNY 10 billion. Its products cover a wide range of fields like military products, special high-performance ships, bridge steel structures, energy equipment, heavy duty equipment, offshore and large vessels, etc.
Till now, WSIC has successfully built and delivered more than 1,000 sets of various types of ships to domestic & overseas customers. In recent decades, WS has dedicated itself to building special high-performance vessels and delivered more than thirty vessels of anchor handling/tug/supply vessel, platform supply vessel, standby ship, deep diving support vessel and offshore research and exploration vessel, etc.
Meanwhile, it has also extended its business to offshore and set up a 100% subsidiary – Qingdao Wuchuan Industry Co., Ltd (QWHI) in Qingdao Haixi Bay dedicating to offshore products and large vessels. By importing the advanced project management mode from Singapore, QWHI has successfully delivered BSR Buoys & Foundations Project for Petrobras and won high praise from the client. Besides, some other offshore projects, i.e. CJ-46 Jack-up, K4000 Offshore Service Barge Conversion Project, and the said DCV 5000 DP3 Deepwater Pipelay Heavylift Construction Vessel, are under construction.
WSIC always abides by the conduct standard of "Anytime, anywhere, beneficial to our clients; every word, every action, responsible for the enterprise" to reward the society and every customer with its excellent products, advanced technology and considerate service.
About ABB
ABB (www.abb.com) is a leader in power and automation technologies that enable utility and industry customers to improve performance while lowering environmental impact. The ABB Group of companies operates in around 100 countries and employs about 145,000 people