Advanced power system maximizes operational flexibility and safety for new generation vessels
19 May, 2014 – ABB, the leading power and automation technology group, has won contracts worth in excess of $20 million to supply electrical power and propulsion systems for two next generation offshore vessels.
The first vessel, of ULSTEIN SX165 design, is being constructed at Ulstein Verft in Norway for Island Ventures 11, the joint venture set up in 2012 by the leading US and Norwegian owners Edison Chouest Offshore and Island Offshore, whose advanced subsea service vessels provide high quality solutions to the offshore oil industry.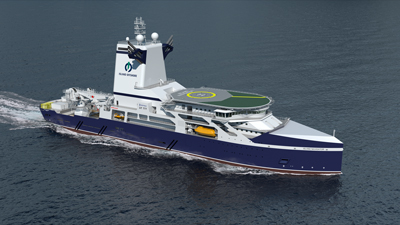 Rolls-Royce Marine UT 777 (image courtesy of Rolls Royce Marine)
At 28 meters wide and 145.7 meters long, and with accommodation for 200 people, the SX165 will be the largest vessel constructed by Ulstein Verft and is due for delivery in Q3 2015. It is equipped with two cranes that can lift 400 tons and 140 tons respectively, and has three separate engine rooms to provide extreme operational reliability.
ABB is to supply an advanced complete power and diesel electric system package comprising medium voltage generators, switchboards, transformers, frequency converters and motors to provide reliable and fuel efficient propulsion. Health, safety and the environment have been a key focus in the design of the vessel and ABB's scope of supply reflects this through its advanced power system, which is capable of achieving the requirements needed to run the system in closed ring in DP3.
The second vessel, for Island Offshore, features the innovative Rolls-Royce UT 777 design for optimal subsea operations including top hole drilling, light well intervention, subsea construction and inspection, maintenance and repair work. ABB will supply an advanced complete power and diesel electric system package comprising medium voltage generators, switchboards including power management system, transformers, frequency converters and motors. ABB will also supply complete fire & gas monitoring and control systems for fire and gas detection.
In addition, both power distribution and propulsion systems will be monitored by ABB's remote diagnostic system (RDS), which helps to reduce repair time of installations and improve operational safety when reducing the need for on-site visits by providing immediate 24/7 assistance from a global technical center.
The second vessel will be constructed at Kawasaki Heavy Industries in Japan and delivery is scheduled for 2017.
"ABB's advanced power system and remote diagnostic system will maximize the operational flexibility and safety." said Heikki Soljama, head of ABB's Business Unit Marine and Cranes. "We look forward to cooperating in the projects and to delivering high quality services to these pioneering new ships."
ABB (www.abb.com) is a leader in power and automation technologies that enable utility and industry customers to improve performance while lowering environmental impact. The ABB Group of companies operates in around 100 countries and employs about 150,000 people.
For help with any technical terms in this release,
please go to: