April 18, 2015 (Zurich, Switzerland) – European Marine Engineering Award 2016 for Azipod D recognizes innovation and originality in auxiliary machinery
ABB, the leading power and automation technology group, has won a European Marine Engineering Award, acknowledging the innovation behind the new Azipod D electric propulsion solution, launched in 2015.
The prestigious 2016 Award for Auxiliary Machinery category honors auxiliary systems that demonstrate innovative and original development that improves a ship's operational efficiency or reduces risk to personnel.
Introduced in 2015, Azipod D propulsion was brought to market to allow a wider range of vessel types to benefit from the proven reliability and flexibility that have made Azipod the leading propulsion system across numerous ship types.
"This award follows on from the remarkable uptake by the market of Azipod D propulsion since its launch in the first quarter of 2015," says Juha Koskela, Managing Director of ABB's Marine and Ports business."The Azipod D requires up to 25 percent less installed power than comparable units, partly due its completely new hybrid cooling which increases the performance of the electric motor by up to 45 percent."
Available in power ranges from 1.6 megawatts to 7 megawatts (MW) per unit, ABB's Azipod D propulsion units give designers and ship builders greater flexibility to accommodate a wide variety of hull forms and propeller sizes, as well as simplicity of installation. The market has already responded to the benefits of the new Azipod D, orders for various ship types have gone into the order books since it was launched.
ABB has so far received orders for 12 Azipod D units for 5 vessels.
ABB's gearless Azipod propulsion system is already the preferred choice of cruise vessels, icebreakers, ice-going cargo vessels and offshore accommodation ships. With the Azipod D, shipping segments such as offshore drilling, construction and support vessels and ferries have even more choices to benefit from the higher flexibility, reliability and energy efficiency provided by Azipod propulsion technology.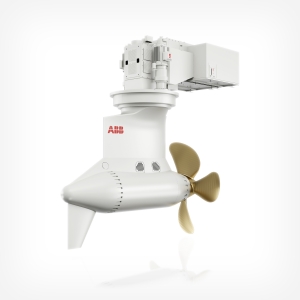 Azipod D
About
Azipod Propulsion
Azipod propulsion is a gearless steerable propulsion system where the electric drive motor is in a submerged pod outside the ship hull. Azipod propulsion improves vessel safety, energy efficiency, maneuverability and performance. http://new.abb.com/marine/systems-and-solutions/electric-propulsion/azipod
About
ABB
ABB (www.abb.com) is a leading global technology company in power and automation that enables utility, industry, and transport & infrastructure customers to improve their performance while lowering environmental impact. The ABB Group of companies operates in roughly 100 countries and employs about 135,000 people.