Azipod C will play a major role in one of world's most innovative and energy efficient superyachts.
22 February, 2016 (Zurich, Switzerland) – ABB, the leading power and automation technology group, will deliver electrical propulsion and power systems to a new luxury superyacht. The 100+ meter LOA vessel, Zoza (working title), is scheduled for delivery in 2018 and will be built by Benetti shipyard in Livorno, Italy.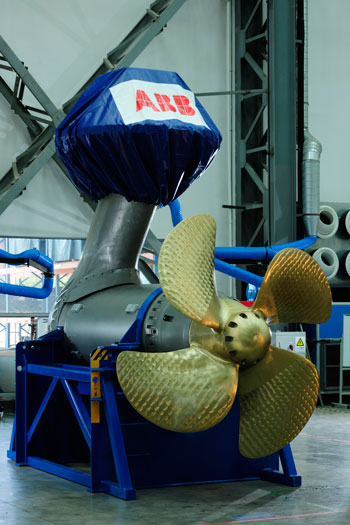 The owner of the ship selected ABB's Azipod propulsion at an early stage of the design process, after prioritizing energy efficiency and passenger comfort. The vessel will feature two Azipod C propulsion units which will bring maximum maneuverability whilst producing minimal noise and vibration.
"ABB was chosen because of its vast experience in the passenger vessel field and global service network. We have worked with ABB in earlier projects and have become convinced of the many benefits of Azipod propulsion and life-long support for our yacht", says Andrew North, the Owner´s Advisor
The end result of the project is a high technology solution with six main engines and an electrical power plant, with the option to connect with a battery plant. Zoza will be one of the first yachts in the world with this solution.
"We are very proud that the owner and the yard chose ABB to deliver the electric power and propulsion systems for this yacht. We believe that Azipod C will fit perfectly for the concept of one the world´s innovative and energy efficient superyachts", says Juha Koskela, Managing Director for ABB's marine and ports business.
"We are very pleased to continue our decade long business relationship with ABB. Through the years they have provided excellent support and we are convinced this productive partnership will continue with this superyacht as well," says Vincenzo Poerio, CEO of Benetti.
About Azipod® C
ABB's Azipod propulsion is a gearless steerable propulsion system where the electric drive motor is in a submerged pod underneath the stern of the ship. Azipod C is designed to reduce vessel lifecycle costs. Azipod C provides shipowners and operators with high efficiency, excellent maneuverability, silent, and vibration free operation.
Learn more about Azipod propulsion systems:
http://new.abb.com/marine/systems-and-solutions/electric-propulsion/azipod
About Azimut Benetti
Azimut Benetti (www.azimutbenetti.it) is the world's largest private group in the yachting sector. The Group's success comes from its passion for what it makes, the care it takes of yacht owners, and the desire to experiment with new technologies and always to surpass itself. The Azimut-Benetti Group operates and produces in its 6 shipyards and with more than 40 models in production, the two brands Azimut and Benetti offer the broadest range in the world.
About ABB Group
ABB (www.abb.com) is a leading global technology company in power and automation that enables utility, industry, and transport & infrastructure customers to improve their performance while lowering environmental impact. The ABB Group of companies operates in roughly 100 countries and employs about 135,000 people.