Azipod propulsion debuts on Chinese icebreaker market after being chosen to power polar science research vessel
12 May, 2016 (Zurich, Switzerland) – ABB's Azipod propulsion system will power a Chinese polar science research icebreaker, the first vessel of its type to be built in China.
The Polar Research Institute of China ship will be fitted with two Azipod VI units with combined power of 15 MWs. The order represents another milestone for ABB in the Chinese market and is recognition of Azipod propulsion's history of reliability and efficiency on ice going vessels.
With a built-in high-efficiency AC motor and fixed-pitch propeller mounted directly on the motor shaft, the Azipod has revolutionized the ice-going segment. While mechanical thrusters have complex transmission with gears and shafts, the Azipod has only electrical cables between the power source and the electric motor. The icebreaker will be able to operate stern or bow first thanks the Azipod thruster's ability to turn 360 degrees.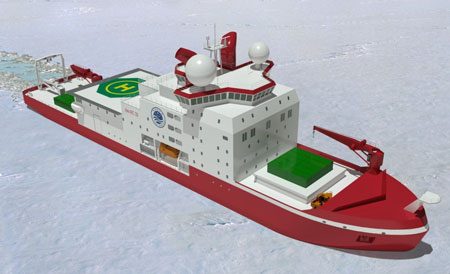 Juha Koskela, Managing Director of ABB's Marine and Ports business said, "ABB delivered its first electric propulsion system to an icebreaker in 1939 and we are delighted to be playing such an important role in the first vessel of this type to be constructed in China. This deal reflects the close ties we have built within China"
This multifunctional icebreaker will be used for science research and has a displacement of 14.3 thousand tons. It can break ice layers with horizontal thickness of up to 1.5 m forwards and backwards, with a continuous icebreaking speed of 2-3 knots. The new vessel will complement the "Xue Long" icebreaker, promoting the development of polar science research in China.
For two of the vessel's four engines, ABB Turbocharging will also supply A100-M turbochargers, offering high turbocharging efficiency and enabling excellent engine load response which is critical for the adverse ambient environment of the icebreaker.
Mr. Yuan Shao Hong, director of Engineering Department for building this icebreaker and the secretary of the party committee of Polar Research Institute of China, said at the signing ceremony, "This icebreaker for polar science research is the first one built in China independently. Two Azipod VI propulsion thruster will further improve the operability, manoeuvrability and icebreaking capacity, meeting the high technical requirements of sailing in non-restricted waters and sea area of north and south poles."
Alf Kare Adnanes, Vice president of ABB Marine and Ports China, said, "ABB has been at the forefront of icebreaking technology for 75 years that has helped us develop some of the most reliable and efficient solutions for the challenging polar regions. Rooted in the China market, ABB will be continuously devoted to supporting the fast development of China's shipbuilding and offshore industry through long-term good partnership."
About Polar Research
Institute of China
Polar Research Institute of China, established in 1989, is a public welfare institution directly subordinate to State Oceanic Administration and also the sole scientific research and guarantee service center specialized in polar research in China.
About
ABB
ABB (www.abb.com) is a leading global technology company in power and automation that enables utility, industry, and transport & infrastructure customers to improve their performance while lowering environmental impact. The ABB Group of companies operates in roughly 100 countries and employs about 135,000 people.