An advanced hospital vessel under construction for the Mercy Ships charity will feature complete electrical power and propulsion systems from ABB.
18 March, 2015 (Zurich, Switzerland) – ABB, a global leader in power and automation technology, will deliver electrical propulsion and power systems to a new flagship hospital vessel for the Mercy Ships organization.
The vessel, Atlantic Mercy (working title) will be built by China Shipbuilding Industry Corporation (CSIC) at the Tianjin Xingang Shipyard and scheduled for delivery in 2017. The Atlantic Mercy project construction will be managed by Stena RoRo.
Mercy-ShipTo be certified as a passenger vessel, the Atlantic Mercy will be fitted with a pair of ABB's Azipod® C propulsion units, the most advanced propulsion system in modern passenger ships. ABB's scope of delivery includes an energy saving Azipod C electrical propulsion system, which provides a high level of maneuverability, reliability and passenger comfort due to minimal vibration, and the main electrical power plant.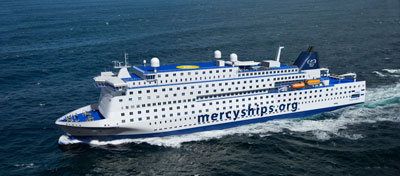 When completed, the Atlantic Mercy will be the world's largest civilian hospital vessel. The 37,000 gt vessel will feature full hospital, accommodation and training facilities and once in service, she will expand the Mercy Ship organization's activity on the African continent. There will be two hospital decks onboard, and six surgery rooms that can be used for both medical care and educational training. The ship will have beds for 109 acute-care patients, 45 self-care patients, and over 487 crew members and medical staff in 277 cabins. While in port, the ship's capacity increases to 950 people.
"We have done many challenging new buildings over the years but this is truly a fantastic project to work with. To know that the work we do on behalf of Mercy Ships can contribute to the wellbeing of so many make ourselves and selected partners such as ABB very proud to be involved," says Staffan Stenfelt, New building manager at Stena RoRo.
The power production system on board the Atlantic Mercy is designed to ensure power supply for the hospital functions in any possible fault situation. In addition, the ABB power and propulsion plant will be supported by a remote diagnostics system and around-the-clock telephone assistance to ensure uninterrupted operations.
"ABB's marine solutions supported with a global service network have already established a strong position across several high-end vessel segments that require outstanding reliability, flexibility and energy efficiency. This hospital vessel project continues the successful collaboration between ABB and Stena on state-of-the-art ships", says Heikki Soljama, Managing Director for ABB's marine and ports business.
"Our hospital ships operate in environments where reliable power is not always available. Even if shore power was available, we could not count on it to provide a safe and clean source of power to operate our hospitals. Our ships have to be pretty self-sufficient and able to provide, not only for the hospital, but also for the 400 plus crew, staff and family members who serve on board. A reliable power source and distribution system is critical for this to happen. Using Azipod propulsion also enables us to dock in tight spots and not be dependent on tug support for arrival or even unexpected departures", says Jim Paterson, Senior Vice President Marine Operations for Mercy Ships.
About Azipod® C
ABB's Azipod propulsion is a gearless steerable propulsion system where the electric drive motor is in a submerged pod underneath the stern of the ship. Azipod C is designed to reduce vessel lifecycle costs and increase ship profitability. Azipod C provides shipowners and operators with high efficiency, excellent maneuverability, silent, vibration- free operation and increased transportation capacity.
Learn more about Azipod propulsion systems: http://new.abb.com/marine/systems-and-solutions/electric-propulsion/azipod
About Mercy Ships: Mercy Ships uses hospital ships to deliver free, world-class healthcare services, capacity building and sustainable development to those without access in the developing world. Founded in 1978 by Don and Deyon Stephens, Mercy Ships has worked in more than 70 countries providing services valued at more than $1 billion, treating more than 2.5 million direct beneficiaries. Each year Mercy Ships has more than 1,600 volunteers from more than 40 nations. Professionals including surgeons, dentists, nurses, healthcare trainers, teachers, cooks, seamen, engineers, and agriculturalists donate their time and skills to the effort. Mercy Ships seeks to transform individuals and serve nations one at a time.www.mercyships.org https://twitter.com/MercyShips
About Stena RoRo
Stena RoRo is one of the leading innovators of the roll on/roll off cargo and passenger concepts. Our products include vessels such as RoRos and RoPaxes. The company charters out a number of vessels to first-class operators all over the world and the clients are found both within and outside of the Stena Sphere. Stena RoRo are highly skilled and experienced in designing and converting vessels, combined with a unique knowledge of the market, to create tailor-made solutions for their demanding customers. This is called Stenability. www.stenaroro.com
About ABB
ABB (www.abb.com) is a leader in power and automation technologies that enable utility, industry, and transport and infrastructure customers to improve their performance while lowering environmental impact. The ABB Group of companies operates in roughly 100 countries and employs about 140,000 people.