15 August, 2017 (Rotterdam, The Netherlands) – A significantly upgraded vessel control software package from ABB is delivering the measurable operational efficiency gains promised to Stena Line for the freight ferry Stena Scotia within a month of commissioning. The 'DEGO IV' advanced speed governor and actuation system onboard has been enhanced so that control over the vessel's propulsion system minimizes roll and rudder movements, delivering a new way of saving fuel while also improving crew comfort.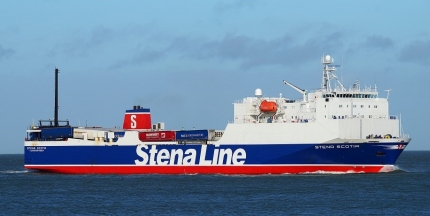 Stena Scotia
The fourth generation DEGO software collates data from sensors monitoring 60 shipboard parameters in real time, including engine performance (rpms, scavenge air pressure, fuel use, etc.), propeller performance (pitch, slip, torque and power), rudder/vessel centre of gravity torque and navigational information. In an advance on previous versions, DEGO IV uses this data to model a control strategy to minimize ship roll, adjusting to changing sea or ship conditions by simulating the next two roll periods to optimize roll damping against fuel consumption on a predictive basis.
The 120-trailer capacity, twin-propeller Stena Scotia is deployed in daily Ro-Ro services between Rotterdam and Killingholme in the UK.
Dick van der Ent, Energy Efficiency Manager at Stena Line BV, says: "For us it is important to minimize the daily fuel consumption and related emissions. ABB guaranteed us a minimal saving potential of 3% when utilizing the latest generation of the DEGO system."
Part of a broad range of energy optimization tools offered to the maritime industry by ABB, the efficiency gains available using the DEGO system depend on ship type, sea conditions and the type of autopilot used. First installations of DEGO IV, made across 10 vessels, indicate fuel saving potential in the range of 5-7%, with roll reduction between 20-40% and rudder reduction of 15-60%.
"The latest generation of our DEGO system is an excellent example of the way our integrated solutions help to optimize the energy efficiency of ships, ranging from newbuildings to vessels with years in service such as Stena Scotia," said Juha Koskela, Managing Director of ABB's Marine and Ports Business. "In a society that demands shipping becomes more sustainable, and rules and regulations on green shipping are becoming more stringent, we as ABB put great effort into helping our customers meet their needs."
ABB's Marine Software portfolio is designed to offer ship owners and operators the ability to visualize data, for exploitation by crew onboard ships or for sharing with the ship's shore-side support team.
In 2016, Stena Scotia hosted trials of the ABB torque monitoring system Torductor Marine, which measures propeller shaft performance to verify that ship performance is in line with the International Marine Organization's Ship's Energy Efficiency Management Plan (SEEMP). Following a demonstration of its ability to quantify propulsion power, Specific Fuel Oil Consumption (SFOC), total number of shaft revolutions and the total amount of energy developed during a voyage, Stena Line entered a commercial arrangement to include Torductor Marine on the vessel.
ABB (ABBN: SIX Swiss Ex) is a pioneering technology leader in electrification products, robotics and motion, industrial automation and power grids, serving customers in utilities, industry and transport & infrastructure globally. Continuing more than a 125-year history of innovation, ABB today is writing the future of industrial digitalization and driving the Energy and Fourth Industrial Revolutions. ABB operates in more than 100 countries with about 132,000 employees www.abb.com