31 May, 2016 – Xiang Rui Kou semi-submersible vessel to be outfitted with ABB's decision support system.
ABB, the leading power and automation technology group, will supply its onboard motion monitoring and forecasting system to the Xiang Rui Kou heavy lift vessel, meaning the entire fleet of Cosco Heavy Transport now benefits from the software. The system that will be installed is a mixed software and motion measurement set-up that on one hand provides clear advice on how to operate the vessel and her cargo through heavy weather, and on the other hand gives clear warnings on the bridge when certain motion thresholds are exceeded.
"Ship operators are increasingly looking at ways to exploit the increased connectivity of ships and ABB has compelling Marine Software solutions to increase safety and efficiency," said Juha Koskela, Managing Director of ABB's Marine and Ports business unit.
ABB and Cosco Heavy Transport have a track record of successful cooperation with ABB's decision support system onboard six of its semi-submersible vessels for several years. Cosco's Semi-Submersible newbuild, Xiang He Kou, is also currently being outfitted with ABB's Motion monitoring & forecasting system. With the latest order for the Xiang Rui Kou, the whole fleet of seven semi-submersible heavy transport vessels will be making use of ABB's Marine Software.
Marc Beerendonk, Director of Engineering from Cosco Heavy Transport said, "Now we have connected all our vessels to this software we are able to fully utilize ABB's Fleet Portal, so all the motion related data collected from the whole fleet can be tracked and benchmarked. By doing so, we are able to increase the safety of the voyages and the comfort level of our client significantly."
The motion and forecasting system combines wave measurements, weather forecasts, and navigation with ship characteristics, loading conditions, and motion sensor measurements. This facilitates continuous monitoring as well as simulation and forecasting of the ship responses and performance. Warnings can be instigated for possible hazards and their consequences.
Xiang Rui Kou has a cargo deck of 177 meters by 43 meters with a deadweight of more than 48,000 tonnes.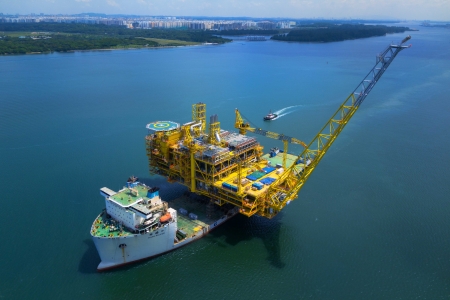 Xiang Rui Kou
About ABB's Marine
Software & Analytics
ABB offers the widest portfolio of marine software and optimization systems to the maritime market. Its performance management solution consists of a modular and comprehensive decision support toolkit to optimize the workability and safety of a ship, and to minimize the overall fuel and energy costs for a whole fleet.
About
ABB
ABB (www.abb.com) is a leader in power and automation technologies that enable utility, industry, and transport and infrastructure customers to improve their performance while lowering environmental impact. The ABB Group of companies operates in roughly 100 countries and employs about 140,000 people.
About Cosco
Heavy Transport
COSCO Heavy Transport specializes in the handling of heavy-lift cargoes and has a long and widely recognized track record of providing safe and fast transports and installations of a variety of large offshore equipment by means of Float-on/Float-off, Roll-on/Roll-off and Lift-on/Lift-off operations.
For more information
please contact:
ABB Marine and Ports
Peter Lovegrove
Media Relations Manager
Tel. +47 409 04 294
peter.lovegrove@no.abb.com