Strong environmental credentials of new Azipod model lead to nomination at prestigious cruise awards
21 September, 2016 (Tenerife, Spain)– The linear flow Azipod XL has been nominated for a prestigious award for its fuel saving qualities only weeks after ABB launched the new model. Its benefits will be considered in the Environmental Initiative category of the 2016 Seatrade Cruise Awards.
Azipod thrusters have already been credited with saving the maritime industry 700,000 tonnes of fuel since the first installation 25 years ago and the new model can improve fuel efficiency by a further 5-10 %.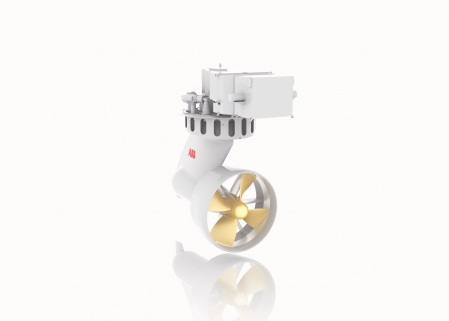 Azipod XL Front view
The unique features of Azipod propulsion have helped revolutionize the cruise industry – the motor is submerged in a pod outside the hull of the ship meaning that there is no need for the bulky equipment associated with shaft line and rudder propulsion systems, freeing up space for more cabins onboard. The thrusters can also turn 360-degrees, vastly improving the maneuverability of ships and therefore allowing them to dock in new destinations.
"Cruise operators are looking for solutions which raise efficiency and minimize their impact on the environment – ABB's Azipod XL will help achieve these goals," said Juha Koskela, Managing Director of ABB's Marine and Ports business. "ABB has been working with the cruise industry for two decades and the new Azipod XL will power the most efficient cruise ships ever built."
The Azipod XL represents the biggest jump in the systems' fuel efficiency in recent years. To put it in perspective, if the newest model replaced all existing Azipod units it would save the shipping industry 2.2 million tons of fuel, and 7 million tons of carbon dioxide, over the next 25 years.
The new linear flow Azipod XL achieves this jump in efficiency by introducing a nozzle with stator plates, which directs the water flow from the propeller to reduce the turbulence and energy loss and achieve optimum thrust. The modifications are relatively straightforward meaning there will be no compromise to Azipod propulsion's excellent availability record, currently standing over 99.8%.
25 years of Azipod propulsion
Read more about the remarkable history of Azipod propulsion http://bit.ly/Azipod25yr
Videos:
Introducing the Azipod XL
Meet the Experts: Azipod XL
About
ABB
ABB (www.abb.com) is a leading global technology company in power and automation that enables utility, industry, and transport & infrastructure customers to improve their performance while lowering environmental impact. The ABB Group of companies operates in roughly 100 countries and employs about 135,000 people.
For more information
please contact:
ABB Marine and Ports
Peter Lovegrove
Media Relations Manager
Tel. +47 409 04 294
peter.lovegrove@no.abb.com