December 1st, 2015 (Zurich, Switzerland): Marking the next step in the evolution of electric propulsion systems, a retrofitted vessel will feature five Azipod propulsion units, including for the first time two retractable thrusters.
ABB, the leading power and automation technology group, will supply the entire electric system to provide power throughout the vessel and five high performance Azipod propulsion units for the 175-meter long Chinese mega-crane vessel, Hua Tian Long. It has a gross tonnage of approximately 42,500 and is one of the largest salvage vessels in Asia. The new retractable Azipod units, installed on a vessel for the first time, will bring a range of additional benefits, including entering shallow harbors and dry-docking without need of thruster removal.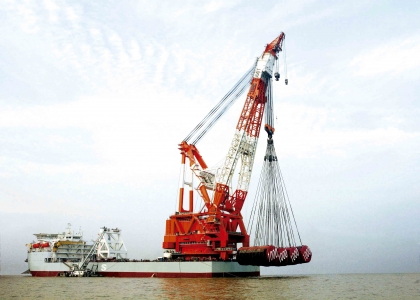 Azipod propulsion is a gearless steerable propulsion system rapidly gaining market share where the electric drive motor is in a submerged pod outside the ship hull, resulting in reduced fuel consumption by up to 20% and decimeter accurate maneuverability. ABB's innovative propulsion solution builds on a 25 year history and allows for simple integration into existing hulls, making it ideal for retrofits such as the Hua Tian Long project.
The advanced power and diesel electric system package will consist of medium-voltage switchboards including power management systems, generators, transformers, frequency converters, motor and the Azipod thrusters.
"The application of the retractable design marks another innovative step in the evolution of the Azipod propulsion system," remarked Heikki Soljama, Managing Director of ABB's marine and ports division. "This unique innovation reiterates our focus on technology leadership as a key differentiating element in ABB's Next Level strategy."
The vessel will be retrofitted at You Lian Dockyards (Shekou) Limited, in China, and is scheduled to be delivered back to the customer at the end of 2016. The vessel will operate in the offshore fields around the world.
Further benefits of the retractable propulsion units are: reducing operational risk by enabling thruster maintenance on the ship deck during drilling; reducing the fuel consumption during transit when the forward units are lifted inside the hull to reduce resistance.
About Azipod Propulsion
Azipod is the leading podded propulsion technology with 25 years of experience and about 90% of the podded propulsion market. Two thirds of the modern large cruise ships, icebreakers and high ice-class cargo vessels are fitted with Azipod propulsion.
http://new.abb.com/marine/systems-and-solutions/electric-propulsion/azipod
About ABB
ABB (www.abb.com) is a leader in power and automation technologies that enable utility, industry, and transport and infrastructure customers to improve their performance while lowering environmental impact. The ABB Group of companies operates in roughly 100 countries and employs about 140,000 people.