February 22, 2017 (Dalfsen, Netherlands) – ABB's OCTOPUS marine software will improve the safety and efficiency of four new semi-submersible heavy lift vessels, using weather and loading data to plot the optimal route.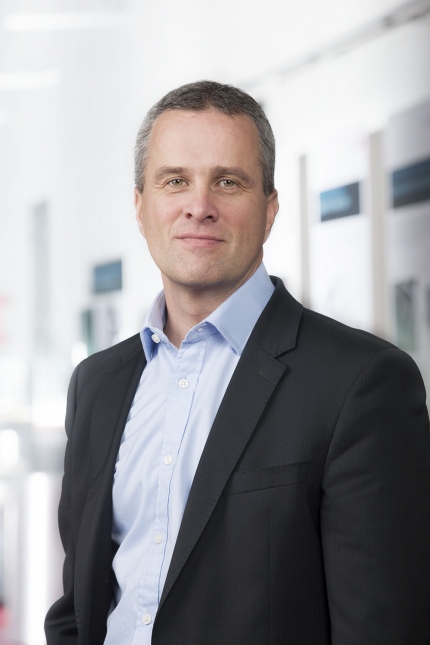 Juha Koskela, Managing Director,
ABB Marine and Ports GPO Under construction
The ships, owned by Greenland Heavylift Holdings, will transport gigantic cargoes such as oil rigs and jack-up rigs, with OCTOPUS providing a tailored route for each voyage that is updated with fresh weather data throughout the transportation.
OCTOPUS is the maritime industry's most comprehensive vessel management software platform and ship owners can choose the modules most relevant to their operations. In this case, OCTOPUS will take into account the hydrodynamic properties of the vessel, loading parameters and the ship's onboard weather forecasting to create a polar chart that maps the safest and most efficient voyage route. The information will allow ship's officers to continuously update course or speed decisions during the passage.
ABB will also install sensors to produce real-time roll and motion data covering both cargo and ship motions, which can be viewed from the bridge and ashore. This information is vital to enhance safety onboard and as a guide to the condition of cargoes delivered.
Juha Koskela, Managing Director of ABB's marine and ports business said, "OCTOPUS and the heavy lift industry go hand-in-glove. Our marine software has become a vital tool for both the officers onboard and the shore side support team."
Dagfinn Thorsen from Greenland Heavylift Holdings says, "The OCTOPUS system is considered to be the industry standard when it comes to prediction and measurement of vessel motions for semisubmersible heavy lift ships. For us it was a logical choice to select OCTOPUS technology for safe and efficient execution of heavy lift cargo projects."
The vessels are currently under construction at CSBC Corporation in Taiwan with the first expected to go into service in 2017.
ABB's Marine Software System called OCTOPUS is a unique product portfolio for performance management in marine operations. It reduces fuel consumption and emissions, and increases availability and safety on a single vessel, or on a whole fleet of vessels. http://bit.ly/MarineSoftware
ABB (ABBN: SIX Swiss Ex) is a pioneering technology leader in electrification products, robotics and motion, industrial automation and power grids, serving customers in utilities, industry and transport & infrastructure globally. Continuing more than a 125-year history of innovation, ABB today is writing the future of industrial digitalization and driving the Energy and Fourth Industrial Revolutions. ABB operates in more than 100 countries with about 132,000 employees www.abb.com