26 July 2023 – Classification society American Bureau of Shipping (ABS) awarded Seaspan Corporation and the Mærsk Mc-Kinney Møller Center for Zero Carbon Shipping (MMMCZCS) in collaboration with Foreship an Approval in Principle (AiP) for the design of a 15,000 TEU ammonia-powered container vessel. The certificates were presented at the ABS office in Copenhagen on July 25th, 2023.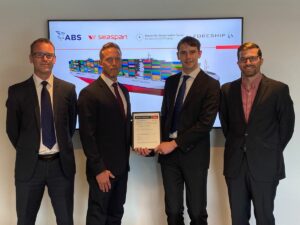 Ammonia is a promising alternative marine fuel. However, there are currently no ships capable of sailing on ammonia. In 2022, Seaspan and the MMMCZCS jointly initiated a project to better understand the challenges and opportunities of designing a large ammonia-fueled container vessel. A concept design for a 15,000 TEU container vessel was developed in close collaboration with ship designer Foreship and classification society ABS. The project included defining the safety objective, impact of ammonia as a fuel on vessel performance, completion of a hazard identification (HAZID) qualitative risk assessment and development of the concept design. Documentation included a fuel range and endurance analysis, ammonia tank and system location assessments, general arrangement, main machinery and electrical system design, and initial vessel stability calculations.
The project is connected to the Singapore Ammonia Bunkering Feasibility Study (SABRE) consortium, focusing on developing and demonstrating an ammonia supply chain in Singapore. Phase 1 performed an end-to-end technical and commercial feasibility study of ammonia bunkering in Singapore along with a preliminary ammonia bunkering vessel design. Phase 2 is investigating how to mature the commercial feasibility so that contractual terms across the supply chain are prepared and can be executed to establish an ammonia bunkering operation in Singapore. The 15,000 TEU vessel was designed as a potential receiver of ammonia fuel from bunker vessels currently under design and development.   Speaking on the presentation of the AiP, Peter Jackson, Senior Vice-President Assets & Technology at Seaspan Corporation, said:
"This is a very good example of industry collaboration, where leading maritime organizations are working together and taking tangible steps to decarbonize the maritime industry. Ammonia is a very promising future marine fuel and this project is a vital and significant step in the development and realization of ammonia powered containerships."
Thomas McKenney, Head of Ship Design at Mærsk Mc-Kinney Møller Center for Zero Carbon Shipping, added: "This project highlights the importance of collaborative design development and proper safety case integration as the ammonia fuel pathway matures for the maritime industry." "This landmark vessel is an important step towards helping ship owners and operators benefit from ammonia's zero-carbon tank-to-wake emissions profile. However, ABS recognizes that ammonia presents a specific set of safety and technology challenges, and we are committed to leading the industry in supporting its safe adoption at sea," said Panos Koutsourakis, ABS Vice President, Global Sustainability. Shaun White, Managing Director UK at Foreship Ltd, added: "Foreship has a clear strategy and focuses on decarbonization services and supporting the marine industry to achieve net zero targets. This innovative project demonstrates how Foreship works in collaboration with ship owners, classification societies and research organizations applying industry-leading naval architecture and marine engineering expertise to ship designs using promising alternative fuels." A report detailing the concept design, how the ammonia safety case was developed and outcomes from the risk assessment will be published by MMMCZCS. The potential commercialization of the vessel design concept based on technology and shipyard readiness will be the focus of the next stage of this project.
About Seaspan
Seaspan is the largest global containership lessor, primarily focused on long-term, fixed-rate leases with the world's largest container shipping liners. As of December 31, 2022, Seaspan's operating fleet consisted of 132 vessels with a total capacity of 1,219,080 TEU, and an additional 58 vessels under construction, increasing total fleet capacity to 1,919,080 TEU, on a fully delivered basis. For more information, visit www.seaspancorp.com.
About the Mærsk Mc-Kinney Møller Center for Zero Carbon Shipping
The Mærsk Mc-Kinney Møller Center for Zero Carbon Shipping (MMMCZCS) is an independent, not-for-profit research and development center established in 2020 with funding from the A.P. Moller Foundation. Our purpose is to guide and accelerate decarbonization of the global maritime industry. www.zerocarbonshipping.com    Center Media Contact: Didde Welin Pilgaard, Head of Communications | +45 2174 3727 | didde.pilgaard@zerocarbonshipping.com
This complex challenge requires unprecedented collaboration across sectors, industries, and geographies. Working with our partners, governments, authorities, public sector bodies, scientists, and organizations across the global maritime industry we aim to inform, de-risk decision-making, and spark real climate action.  We are technology agnostic and have no vested interest in specific decarbonization solutions. We explore free of commercial considerations and independent of partner strategies. As a result, we deliver independent analyses of how the transition is progressing and offer clear, data-driven recommendations for accelerating maritime decarbonization. Furthermore, we are maturing solutions to the most pressing problems across the maritime value chain, from fuels to onboard solutions, regulations, and financing. Strategic Partners to the Center include: Alfa Laval, American Bureau of Shipping, A.P. Moller – Maersk, bp, Cargill, CF Industries, Equinor, DP World, Hapag-Lloyd, MAN Energy Solutions, Mitsubishi Heavy Industries, Mitsui, NORDEN, NYK Line, Rio Tinto, Royal Caribbean Group, Seaspan Corporation, Siemens Energy, Stolt Tankers, Sumitomo Corporation, Swire Group, Topsoe, TotalEnergies and V.Group.  For more information, please visit 
About ABS
ABS, a leading global provider of classification and technical advisory services to the marine and offshore industries, is committed to setting standards for safety and excellence in design and construction. Focused on safe and practical application of advanced technologies and digital solutions, ABS works with industry and clients to develop accurate and cost-effective compliance, optimized performance and operational efficiency for marine and offshore assets.  For more information, please visit www.eagle.orgABS Media Contact: Gareth Lewis | Director, External Communications | +44 7824374395 | glewis@eagle.org
About Foreship
Foreship is a highly respected, independent ship design and engineering company which has developed an unrivalled breadth of services since its formation in 2002. With more than 80 employees, located in nine offices worldwide, the Foreship team of Naval Architects, Marine Engineers and Sustainability Specialists have provided concept and project design, consultation and project management for some of the industry's highest profile newbuildings and completed over 1,200 conversions, to turn clients' ideas into reality. Foreship's vision is to become a world leader in sustainability solutions for all ship types, supporting ship owners and ship operators to achieve their net zero goals using future technologies and alternative fuels.www.foreship.comForeship Media Contact: Michelle Cottet | michelle.cottet@foreship.com
For more information, please visit