Strategic partnership with data-collection and IoT specialist METIS to improve access to turbocharger digital services
Collaboration will extend benefits of real-time data insights to vessels and facilities with previously limited connectivity
Data infrastructure from METIS will drive uptake of Accelleron digital solutions and Smartly Enabled Service agreements
02 October 2023 – Accelleron has signed a strategic partnership with METIS Cyberspace Technology that will expand the number of marine installations and power generation facilities that can use data analytics to improve turbocharger operation and maintenance.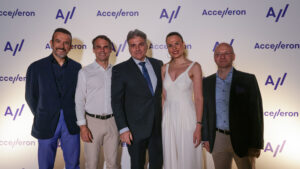 METIS develops data-collecting hardware and IoT solutions that can be easily deployed in vessels and facilities to achieve automated, real-time data availability. Under the cooperation, METIS will provide onboard and cloud-based data infrastructure to Accelleron customers, enabling the data collection that underpins Accelleron's range of Smartly Enabled Service Agreements.
With many marine and power generation assets built before the advent of modern digital solutions, the cooperation will support operators in establishing the connectivity needed for real-time data collection and transfer. This capability is a pre-requisite for Accelleron's digital solutions including Tekomar XPERT and Turbo Insight, and its service agreements Turbo MarineCare and Turbo SmartCare.
The marine class-approved data acquisition system from METIS can be tailored to meet the specific requirements of operators' facilities. By partnering with METIS, Accelleron is broadening the number of customers that can benefit from the real-time insights and efficiency gains offered by its digital solutions.
Eleni Polychronopoulou, CEO, METIS, said: "State-of-the-art information technologies are increasingly available and affordable, which means that the value data offers to unlock greater ship safety, efficiency and sustainability can be made more widely accessible wherever assets are operating. We are delighted to team up with Accelleron to drive the uptake of these essential optimization capabilities in sectors that may have previously considered them out of reach."
Roland Schwarz, Division President Service, Accelleron, added: "Digital solutions and data-enhanced services are increasingly understood as the keys to significant and cost-effective efficiency improvements in shipping and power generation. Accelleron has already invested in developing the tools and service agreements that enable customers to tap into these benefits. Our partnership with METIS will ensure we can extend those advantages to users that may otherwise have been unable to access them."
ACCELLERON
Accelleron is a global leader in turbocharging technologies and optimization solutions for 0.5 to 80+ MW engines, helping to provide sustainable, efficient and reliable power to the marine, energy, rail, and off-highway sectors. Through its innovative product offerings and research leadership, the company accelerates the decarbonization of the industries it operates in. Accelleron has an installed base of approximately 180,000 turbochargers and a network of more than 100 service stations across 50 countries worldwide.
METIS Cyberspace Technology S.A.
METIS Cyberspace Technology specializes in High Frequency Data Acquisition, and Advanced Performance Evaluation An- alytics for the maritime Industry. METIS combines innovative thinking, maritime business know-how and expertise in high-end technologies such as Machine Learning and Artificial Intelligence to empower shipping's digital transformation. Established in 2016 in Athens, METIS is majority-owned by the maritime-focused environmental engineering group ERMA FIRST.