18 May, 2017 (Dalfsen, Netherlands) – The latest development will enable customers to monitor their emissions according to the EU's Monitoring Reporting and Verification (MRV) regulation requirements, which come into effect 1st of January 2018.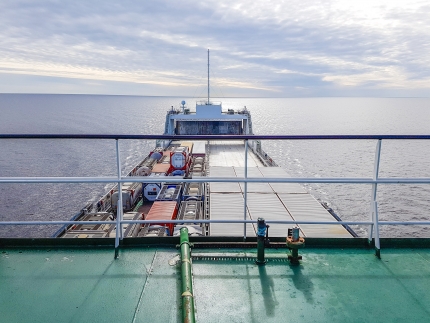 MRV module has been certified by the
independent ABBs certifier Verifavia
ABB's MRV module has been certified by the independent certifier Verifavia, as a tool to monitor all parameters to comply with the EU's MRV regulation requirements. The system follows requirements set out in Regulation (EU) N° 2015/757, the associated Delegated and Implementing Acts and the ISO IEC 25051 standard on software.
As a standardized MRV compliant software platform, the ABB module collects and visualizes data from onboard sensors on a ship's fuel consumption and carbon dioxide emissions on a per-voyage basis. This information is then used to create an annual emission report as required by the MRV regulation for ships above 5000 gross tons calling at European ports, irrespective of where the ship or the company is registered.
The MRV module is one of many components of ABB's digital marine application, the maritime industry's most comprehensive decision support software suite, which allows ship owners to monitor performance, such as fuel usage of individual vessels or whole fleets and create benchmarks. The digital marine application is part of the ABB AbilityTM platform, enabling customers to turn data insights into direct actions to enhance performance.
"In recent years, we have placed a great emphasis on connectivity and the role of big data in the shipping industry," said Juha Koskela, Managing Director of ABB's marine and ports business. "Going beyond our MRV initiative, we see our digital solutions as an important driver in the industry's journey towards remote operations, predictive maintenance planning and more automated ships."
Alberto Perez-Espinosa, Head of Global sales said, "Being compliant with regulations and for ship-owners to have a sustainable license to operate is one thing. But within ABB we take pride in helping our clients by delivering a system that can easily be extended with different optimization modules."
Whitepaper:
ABB software for the MRV imperative
About
ABB
ABB (ABBN: SIX Swiss Ex) is a pioneering technology leader in electrification products, robotics and motion, industrial automation and power grids, serving customers in utilities, industry and transport & infrastructure globally. Continuing more than a 125-year history of innovation, ABB today is writing the future of industrial digitalization and driving the Energy and Fourth Industrial Revolutions. ABB operates in more than 100 countries with about 135,000 employees. www.abb.com