22 May, 2017 – Vestdavit is bringing its MissionEase multiple-boat handling system to a new passenger ship audience, citing concerns that conventional launching and retrieval could compromise safety for a generation of expedition ships heading for remote locations.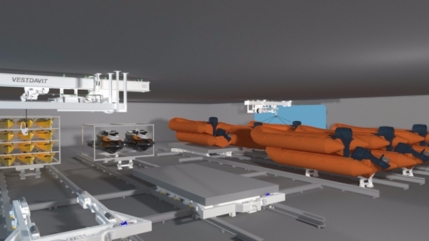 Increasingly, those onboard expedition yachts and cruise ships expect excursions away from the main vessel, with RIBs, kayaks, waterjets or similar considered part of the adventure. One solution gaining popularity sees inclusion of a mission bay in the ship's structure, capable of protecting multiple boats from the elements and stowing the high value assets out of harm's way.
However, solutions for transferring boats between stowage areas and the davits used to launch and retrieve them often rely on overhead gantries within the bay. Swaying loads can be dangerous, while slinging and unslinging boats for offloading or stowage takes time. Instead, MissionEase uses a system of hydraulic cradles positioned on the deck of the vessel's hangar to move boats safely from their stowage positions to the maintenance, preparation or launch areas.
First delivered to an offshore customer at the end of 2016, the solution is equally at home in the leisure market. "Being able to leave and rejoin the vessel safely to explore the wonders of nature or enjoy watersports is now part of the cruising experience," says Bjørnar Dahle, Sales and Business Development, Vestdavit. "For owners of the expedition ships and mega-yachts of today, protecting these assets and handling them safely with maximum efficiency has become an operational imperative."
MissionEase enables one operator using a remote control to transfer, launch and recover a mission boat seamlessly to/from either side of the vessel. The system is simpler, quicker, safer and has more redundancy than any other handling system for mission bays, Mr. Dahle says.
"We have brought together Vestdavit's experience in naval, offshore and seismic ships to make the best use of any hangar or mission bay up to the standard deck-height of 2,900mm. MissionEase allows boats to be moved safely and quickly, even in high seas or when the vessel is in motion. The system means that the mission bay is a truly multi-role area that allows boats and other equipment to be stored, maintained, prepared and launched from a safe environment."
Vestdavit's expertise lies in designing tailor-made solutions for the launch and recovery of boats in difficult conditions at sea, with its solutions including single and dual point davits, hydraulic shock absorbers and advanced anti-sway technology.
For more information,
please contact:
Bjørnar Dahle
Sale and Business Development Director
Vestdavit
+ 47 452 19 573
Bjornar.dahle@vestdavit.no
Or Visit Vestdavit at Nor-Shipping 2017,
May 31 – June 2, on stand C05-44e.
Issued by:
Hugh O'Mahony
Director, PR
JLA Media
+44 208 405 6343
hugh.omahony@j-l-a.com