06 June 2023 – Propulsion and propeller solution from BERG for transformative ro-ro ship always optimizes vessel's sustainable performance, even when not in use.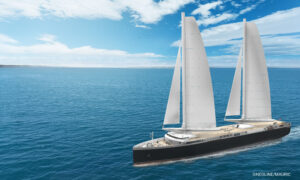 An integrated control to propeller solution from Berg Propulsion has been selected to ensure that the visionary Neoliner ro-ro vessel will always achieve optimized performance, whether it is powered by wind alone or with the assistance of gensets.
In January, French company Neoline Armateur contracted Türkiye's RMK Marine to build the first ever ro-ro vessel to use wind power for commercial operations at its Tuzla yard. Designed by Mauric, the 136m length Neoliner will be a pioneer of energy transition in shipping, using emission-free wind power captured by a 3,000 sq m area of sail, supported by two 76m SolidSail folding carbon masts.
While wind power is expected to account for almost 80% of Neoliner's propulsion needs, close maneuvers and service punctuality require auxiliary power to assist. RMK Marine has contracted Berg Propulsion to deliver and offer technical support for the auxiliary propulsion system, in an elegant solution which includes a 'feathering' main propeller. When feathered, propeller blades are set parallel to flow, in a position which will minimize drag when Neoliner is under sail.
Berg's full scope of supply covers an MPP850F controllable pitch propeller with feathering system, the shafting system, gearbox and control system, and 3xMTT113FP tunnel thrusters.
"This is a transformative project that challenges the status quo in commercial shipping, and Berg is delighted to offer enabling technology to optimise Neoliner's sustainable performance across its operational needs," said Mustafa Müslüm, General Manager, Berg Propulsion Eurasia. "We would also like to extend our thanks to RMK Marine for its continuing trust in the Berg team."
Whether the Neoliner uses 100% sail, electric power, its 3184-kW engine or any combination, the Berg solution will ensure optimized hydrodynamic performance and sustainability, added Müslüm.
"Berg Propulsion is an established provider of innovative propulsion technology which has been supporting RMK Marine's delivery of highly reliable ships for almost a decade, across a range of vessel types including tankers, tugs and other service craft," said Gürkan Türkeş (General Manager), RMK Marine. "We are delighted to be working with them once more on this exceptional project."
Co-financed by CMA CGM, ADEME Investissement, NEOLINE Développement, Corsica Ferries, Louis Hardy S.A.S, the Banque des Territoires and the Pays de la Loire Region, the project anticipates the first Neoliner entering a pilot transatlantic service between Saint-Nazaire, Saint-Pierre-et-Miquelon, Baltimore and Halifax in 2025. Companies behind brands such as Renault, Beneteau, Manitou, Michelin, Hennessy, Clarins, Longchamp and Cointreau have already committed to use Neoliner.
"Steps continue towards the realisation of the Neoliner project as a true pioneer of energy transition in shipping," said Jean Zanuttini, CEO, Neoline.  "Auxiliary propulsion systems will play a critical role in ensuring that wind power offers a wholly pragmatic solution to shipping's complex energy issue,"
About Berg Propulsion Production
Berg Propulsion is a Swedish company providing a range of propulsion technologies, electrical integration solutions and energy efficiency optimization strategies for marine and offshore vessels. It designs and manufactures controllable-pitch propellers, azimuth thrusters and transverse thrusters, as well as vessel control and manoeuvring systems, and supplies both hybrid interface and integrated hybrid electric propulsion solutions.
Berg Propulsion has production facilities in Sweden, and direct sales & service offices in China, Singapore, Türkiye and United Arab Emirates. Furthermore, the company is supported by a global dealer & service network. For more information, visit: www.bergpropulsion.com
About RMK MARINE
RMK MARINE is one of the leading shipyards in the Turkish Shipbuilding Industry, whose capabilities are based on advanced technologies, complex design and integrated engineering applications.  RMK Marine has continuously improved its business volumes and areas of expertise since 1997, when it joined Turkey's largest industry and service group – Koç Holding. It offers turnkey solutions for Yacht, Commercial Ship and Naval Shipbuilding projects, with specialties including environmentally friendly vessels, chemical and product tankers, and carriers designed for high temperature cargoes such as asphalt / bitumen. RMK has also fulfilled many award-winning superyacht projects and will continue to build Yachts of 40 meters and above to distinctive designs.