MOU with Singapore marks opening of new research center
16 February, 2015 (Tokyo) – Leading classification society ClassNK (Chairman and President: Noboru Ueda) and the Maritime and Port Authority of Singapore (MPA) signed a memorandum of understanding (MOU) on 13 February to promote research and development (R&D) and innovation in the maritime industry.
Over the next five years, ClassNK and MPA will join forces to foster maritime thought leadership on technology through conferences and workshops, and carry out joint R&D projects focused on enhancing ship safety and environmental sustainability in four main areas:
• Safe ships: Fatigue-related research and evaluation of structural integrity for safe and reliable construction and operations of ships
• Smart ships: Data analytics to assist in real-time anomaly detection of machinery, real-time monitoring of emissions and condition-based monitoring of structures for ship and machinery operations
• Environmentally-friendly ships: Applied research in emission control and alternative fuel engine technologies to achieve reductions in SOx, NOx, and particulate matter
• Marine renewable energy: Research on developing a tropical marine energy test site and tidal energy generation, material biofouling studies, and energy storage systems for shore power supply. 
The MOU was signed by Mr. Andrew Tan, MPA Chief Executive, and Mr. Yasushi Nakamura, ClassNK Representative Director, Executive Vice President.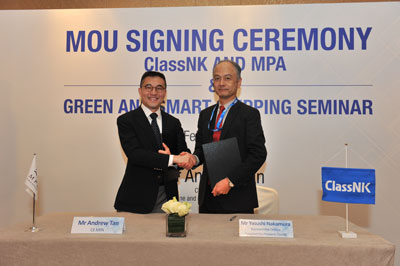 MOU signing ceremony: From the left: Mr. Andrew Tan, Chief Executive, MPA; Mr. Yasushi Nakamura, Representative Director, Executive Vice President, ClassNK
"We are happy to partner with ClassNK on this important initiative to jointly develop innovative solutions and tools addressing ship safety, emission control, and marine renewable energy. The signing of this MOU is a reflection of the emphasis we place on innovation and R&D, and signifies a shared vision to make the industry safer, more efficient and greener", said Mr. Tan.
"Singapore is a world leading maritime nation with one of the world's largest maritime clusters. ClassNK has collaborated with MPA before and through this MOU, we aim to further strengthen our relationship and work towards the shared goal of creating a smarter, safer, greener maritime industry", said Mr. Nakamura.
The signing ceremony also marked the opening of the new ClassNK Global Research and Innovation Center (GRIC), ClassNK's first research center outside of Japan. GRIC will carry out research with industry, academia, and government agencies in Singapore and from around the world on various projects such as the development of an Exhaust Gas Cleaning System (EGCS), a feasibility study for a marine renewable energy test site in Singapore, and a pilot scale demonstration for Zero-Emission Desulphurization process for Maritime applications (ZEDSMart).
The signing ceremony was then followed by the ClassNK Green & Smart Shipping Seminar where key industry players gathered to discuss the environmental challenges currently faced by the industry and solutions for smarter, greener shipping, as detailed below.
Development of LNG fuelled ships (natural gas engines) as an example of collaboration with Industries + ClassNK + Government + Universities in Japan
Dr. Koji Takasaki
Technical Advisor, ClassNK
Professor, Graduate School of Engineering Sciences, Kyushu University
The role of MTI as an R&D company which aims to assist ship owners / operators
Mr. Tamio Kawashima
Managing Director
MTI (Monohakobi Technology Institute)
Role of academia in Green & Smart shipping and METB initiative
Dr. Prapisala Thepsithar
Senior Scientist
Energy Research Institute @ NTU (Nanyang Technological University)
Modeling and Simulations – Enabling Green & Smart Shipping
Dr. Kang Chang Wei
Deputy Department Director
Fluid Dynamics
IHPC (Institute of High Performance Computing)
Yanmar's Innovation and New Product Development for "Beautiful Harmony with Global Environment"
Mr. Yasuyuki Takahata
Executive Engineer, Chief Manager
Development Dept., Large Power Products Operations Division
YANMAR
ClassNK R&D Activities in Singapore, Collaborations and Policies
Y.F Wang
Manager, Global Research and Innovation Centre
ClassNK Singapore