07 October 2020 – Resin applications specialist Bolidt reports strong growth in the global ferry market as its state-of-the-art decking solutions are selected for an increasing variety of passenger ship projects.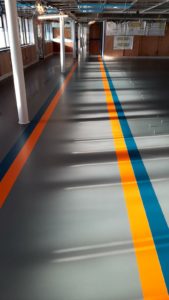 With ferry operators worldwide striving to keep up with consumer demands and environmental regulations, Bolidt's standing in the market is reaching new heights. The Netherlands-based company is currently engaged in projects on a wide range of vessel types for owners around the globe.
In the United States, NYC DOT Staten Island Ferries has commissioned Bolidt to install Bolideck® 525 on three of its new vessels following a successful small-scale trial.  The hardwearing, easy-to-clean system has been applied to 4,000 square metres of passenger areas and indoor decks on each of the first two double-ended ferries. Installation work will soon begin on the second ship, with the final vessel due for delivery by Eastern Shipbuilding Group in 2021.
For Bolidt, the project hints at a return to normal service in the US after the global health crisis caused temporary yard and dry dock closures. "This is one of the biggest ferry projects we have worked on in recent years, for one of the most historic and well-known brands in the sector, a true New York icon" says Jacco van Overbeek, Director Maritime, Bolidt. "It is also a promising sign of things to come for our operations in the US as the industry recovers from the pandemic."
Closer to home, Amsterdam's GVB IJ Ferries has collaborated with Bolidt in recent years with orders for a total of 14 of its vessels, for the domestic market.  This includes a new series order for five fully electric ferries being built at Holland Shipyard Group for routes connecting Amsterdam Centraal to Amsterdam Noord; Bolidt is set to install its Bolideck Select Hard and Boligrip® solutions on each ship.  Together, the two systems will provide a durable, non-slip surface suitable for the busy foot and bicycle traffic that these small ferries experience on a daily basis.
Work is also under way at Tersan Shipyard, Turkey, on a series order for the much larger Havila Voyages' coastal ferries. Operating in the Norwegian fjords – an emissions control area – all four vessels will run on liquefied natural gas-electric hybrid and feature the environmentally friendly Bolideck Future Teak on all outdoor decks, with an underlayer of the recently launched, ultra-lightweight Boliscreed® 400 ULW to further support sustainability objectives.
Meanwhile, Bolidt has cemented its strong relationship with Tallink after the two parties agreed a contract for the supply of flooring solutions for an LNG-powered fast ferry to operate on the Tallinn–Helsinki route. Built for speed and efficiency, the vessel will also feature Bolideck Future Teak.
Alongside its ongoing and forthcoming engagements in the US and Europe, Bolidt is involved in several projects in China – evidence, says Van Overbeek, of the company's ever-growing international reputation. "Here at Bolidt we continue to be commissioned to supply and refit ferries of all kinds, from small domestic passenger boats to larger sea-going vessels. Whether they're looking to improve sustainability or simply provide a better experience for passengers, owners and designers as nearby as Amsterdam and as far away as China rely on our 50 years of experience in providing innovative solutions in ship decking."
For further information please contact:
The Marketing & Communications Department
Bolidt Kunststoftoepassing B.V.
T +3178 684 54 44
E marcom@bolidt.com
www.bolidt.com ​
PR contact:
Debbi Bonner
Managing Director, JLA Media Ltd
T +31 (0)652 630122
E debbi.bonner@j-l-a.com