11 March, 2016 – The world's leading river cruise operator, Viking Cruises, is taking full advantage of an annual deck maintenance programme offered by the Dutch company, Bolidt Synthetic Products & Systems.
A total of 32 vessels – more than half of the Viking Cruises fleet – will have their decking cleaned and renewed at various European ports this winter, with the majority, (18 vessels) being refurbished in Cologne. Nine more will be refurbished in Vienna, while the remaining five river cruisers will have work carried out in the French ports of Bordeaux and Rouen, or Mainz and Duisburg in Germany, depending on their cruising itineraries. Bolidt's own application teams, supported from the company's main operational base in Hendrik-Ido-Ambacht in the Netherlands, have been deployed to all of these locations to carry out the required refurbishment work.
Jacco van Overbeek, director of Bolidt's Maritime Division, says: "The Viking river cruise vessels are designed for pleasure cruising and there is limited space onboard for cleaning equipment. The crew is also fully occupied with other duties during regular voyages. Consequently, deck cleaning and maintenance is carried out as an intensive programme over the winter, after which the decks look as good as new."
All of Viking's river cruise vessels feature extensive decking areas covered by the environmentally-friendly Bolideck® Future Teak decking material. Various deck areas, including the Aquavit and Wintergarden outdoor terraces, the four entrance areas, both port and starboard, the shuffleboard area on the sundeck and passenger cabin balconies, will be scoured and cleaned using a machine developed by Bolidt specifically for the purpose. In addition, a number of minor repairs to the decking will be carried out during the winter maintenance programme.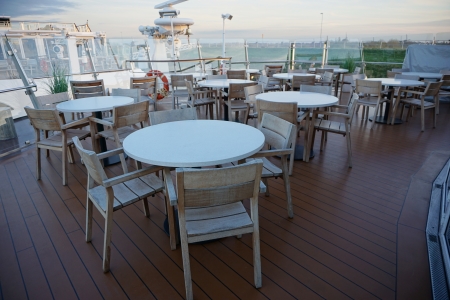 Jacco van Overbeek adds: "We have been carrying out this annual deck refurbishment programme for Viking for a number of years now, and it has proved to be extremely successful. It improves the visual appearance of the vessels, but also ensures safety levels are maintained by keeping the surface 'as new', while ensuring in-voyage maintenance is kept to a minimum."
Bolideck® Future Teak is a durable and lightweight synthetic decking system, which looks and feels much like real teak. It has allowed designers to deliver the high-end quality ambience required onboard Viking's river cruise ships, at the same time as being ecologically responsible and easy to maintain.
Bolidt's relationship with Viking is not limited to refit and refurbishment work involving existing vessels. Viking Cruises has specified Bolideck® Future Teak for its latest generation vessels, including six new 190-passenger capacity Viking Longship river cruise ships, Viking Egil, Viking Kadlin, Viking Vilhjalm, Viking Rolf, Viking Tialfi and Viking Alruna. These Yran & Storbraten-designed vessels were recently christened simultaneously at a ceremony in Amsterdam after delivery by Neptune Werft in Germany. Four of them will be deployed on Rhine, Main and Danube cruises, while the other two will offer cruises on the River Seine in France.
Note to
editors:
Bolidt Synthetic Products & Systems
For further information contact the Marketing & Communications department
T +3178 684 54 44
E marcom@bolidt.com
www.bolidt.com