2 June, 2015 – If you think large scale art collections are only to be found in galleries and museums then you would be wrong. TUI Cruises has assembled around 6,000 works of art for its latest newbuilding, Mein Schiff 4, which sailed out of Finland's Meyer Turku shipyard in May this year. A range of paintings, murals, sculptures, photographs, videos and other media have been procured at a cost of around €3 million to give the vessel a distinctive and contemporary feel.
The Dutch decking and flooring developer and supplier Bolidt has been heavily involved in outfitting the 295m long, 2,700 passenger capacity Mein Schiff 4, with both Bolideck® Future Teak and Bolideck® Select Soft featuring extensively in the public areas and state room balconies onboard. In addition in an unusual application Bolidt has worked closely with leading cruise ship art project managers, International Corporate Art (ICA) and up-and-coming Norwegian artist, Marius Martinussen, on a striking artwork in the TUI Bar area on the second floor of the cruise ship's atrium.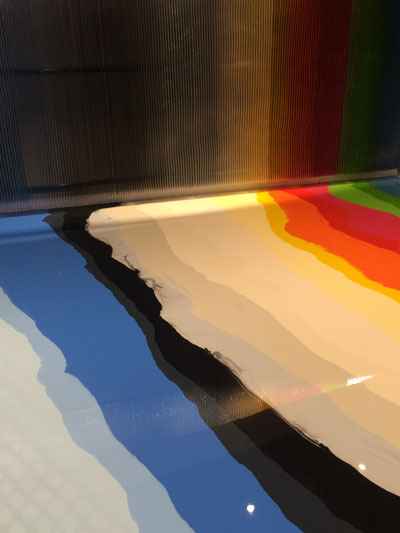 Bolidt 'Waves' floor area on Mein Schiff 4
The colourful art installation is made from thin aluminium panels covered with car paint. Appropriately called 'Waves', it is intended to make passengers feel that they are actually a part of the artwork. ICA art consultant Anne Cecilie Thidemansen says: "The walls look like soft waves but as you get closer their appearance changes, giving the impression that water is running down the wall like wet paint. Bolideck® Sensation was perfect as the flooring material to compliment the installation, as it was important not to use a hard material, such as tiles, where grouting would have broken up the flowing effect."
The multi-coloured floor area within the artwork was poured on site while the ship was in the Turku shipyard by the artist himself, who had carefully sketched out the design and colour combinations beforehand. In total some 43m2 of car paint-lacquered aluminium panels were used for the walls and 30m2 of Bolideck® Sensation for the flooring.
Anne Cecilie Thidemansen adds: "During the pouring Marius Martinussen's artistic license took over and the result was much more successful than even we anticipated. We are grateful to Bolidt for their co-operation in making this artwork happen."
The successful use of Bolidt flooring within the Waves artwork highlights the product's flexibility and adaptability. Jacco van Overbeek, Bolidt Director Maritime Division, says: "Over the past few months we have completed deliveries on a number of cruise ships, with our products being used for a wide range of applications from bumper car floors to contemporary art. It shows that our products can add a striking visual enhancement to a ship while also providing a very practical solution, meeting all the necessary safety and other requirements for maritime flooring."