November 22, 2012 – Bolidt announced today that well-known creative forces at Tillberg Design and SMC Design have selected the company to supply flooring for Norwegian Cruise Line's (Norwegian) newest ship, Norwegian Breakaway. Many of the ship's main public areas will be enhanced by Bolidt's subtle and functional surface shades, the designers say.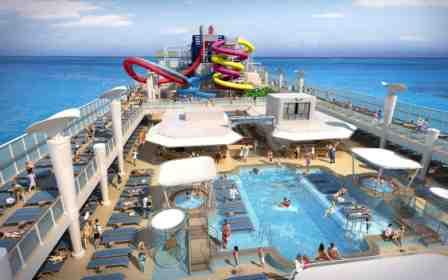 NCL Aqua Park-Main Pool
FinalNCL Aqua Park-Main PoolBolidt, known as the deck and flooring specialists, is supplying 16,500m2 of surfacing for Norwegian Breakaway, including Bolideck® 525, a seamlessly applied, skid resistant and shock absorbing deck covering system, or Bolideck® Future Teak.
Anders Lund Rasmussen, Tillberg Design Senior Architect, Project Manager, says that Norwegian requested a soothing colour scheme for much of Norwegian Breakaway's outside area on decks 16 and above. He says the relaxing tones offer subtlety in leisure areas typically characterised by bustling activity.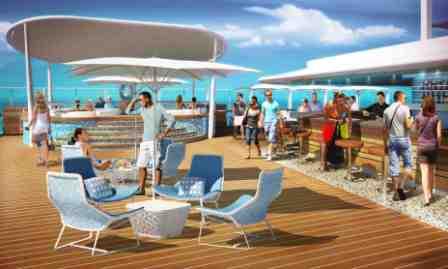 FinalNCL Vibe Beach Club "The contribution made by Bolidt is highly visible. For some of the areas surrounding the aft pool, the challenge was to identify a durable, easy to clean surface that also offered a realistic rendering of a beach. This includes a dappled effect, but the same subtle background colour is used for the lined running track. Bolidt materials are also flexible enough to be delivered in grass-like green to cover the mini-golf course and basketball court, the latter surrounded by a granulated, textured grey that evokes concrete."
Mr Rasmussen says that these shades contrast with the vivid tones selected for child-play areas, such as water slides. "The idea is to create a calm ambience in the relaxation zones, even though there is no physical separation between activities."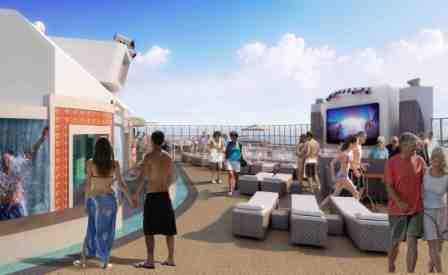 NCL Spice H20
Final day view 2 FinalNCL Spice H20Bolidt materials are also featured in the ship's interior. Liam Kirk, SMC Design Senior Designer/Project Manager draws attention to the contribution Bolidt flooring has made to objectives set for Norwegian Breakaway's 'Bliss' night club. "Bolidt was able to create our desired effect by developing a black and silver glittered floor to enhance the ambience in the area," he says. "The glitter starts off low density at the outer edges and increases density as it reaches the bar area, helping control the flow of the public to the bar." Bolidt coverings have also been selected the 'Entourage Teen Lounge' interior, where Tillberg specified a strident purple augmented by a 'sparkling' effect.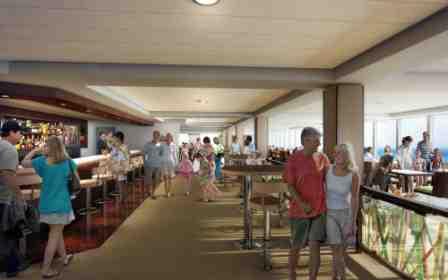 NCL Breezeway Bar & Grill
Bolideck® Future Teak, widely preferred by main cruise ship owners, has also played a significant role in Tillberg's mood-setting conception, says Tillberg's Mr Rasmussen. "Passenger experiences on Norwegian Breakaway include 'The Waterfront' on Deck 8, conceived to emulate an oceanfront boulevard lined with shops, restaurants and bars. Future Teak is a key attribute here, with the black stripes evoking boardwalk planking. It is also subtle enough not to overpower walkway furnishing."
The 4,000 passenger, 144,000 gt ship is set for delivery in April 2013 and is the first of a new series of luxury cruise vessels ordered by Norwegian Cruise Line from Meyer Werft, Papenburg. Built out of 73 blocks, Norwegian Breakaway will be followed into service by sistership Norwegian Getaway in January 2014. The owner's newbuild programme was augmented in October 2012, when Norwegian ordered the larger 163,000 gt 'Norwegian Breakaway Plus' from Meyer Werft.
***END OF PRESS RELEASE***
Note to
editors:
Bolidt Synthetic Products & Systems
For further information please contact Jacco van Overbeek, Director Global Shipbuilding Division
T +3178 684 54 44
E marcom@bolidt.nl
I www.bolidt.com