15 June 2018 – The well-established position of Bolidt Synthetic Products & Systems decking and flooring in mainstream cruise ship and superyacht markets has been quickly converted into a series of business wins in the fast-emerging polar expedition cruise ship sector.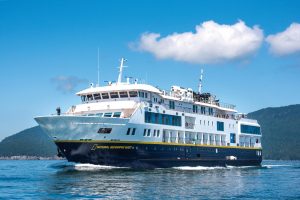 The most recent contract for the Dutch manufacturer's hardwearing, environmentally friendly and visually attractive products covers the Hurtigruten newbuildings, Roald Amundsen and Fridtjof Nansens, two hybrid propulsion expedition cruise ships under construction at Kleven shipyard in Norway. These 20,889grt, 530-passenger vessels are both due for delivery in 2019.
Hapag Lloyd also has a pair of polar class expedition cruise ships, Hanseatic Nature and Hanseatic Inspiration, on order at the Vard shipyard in Tulcea, Romania which will feature extensive Bolidt decking systems onboard. The 15,650grt, 230-passenger capacity ships are also due to enter service next year.
Jacco van Overbeek, Director Maritime Division at Bolidt, believes the company's reputation in the mainstream cruise and yacht sectors has helped it to secure a significant share of the fast-growing expedition cruise sector, whether used for balconies, indoor and outdoor decks and public spaces. "We have been successful because we are already well known for our high quality of workmanship, flexibility and speed of installation, and for our ability to deploy our own specialized application teams worldwide," he says. "This enables us to take on jobs at many different yards around the same time."
However, Van Overbeek adds that important innovations have been needed to take account of the new environment: "Many of the ships call for heated deck systems, as well as special surface treatments to ensure our products remain resistant to extremely low temperatures." Bolidt's unique inhouse R&D facilities, which include state-of-the-art technology such as a climate chamber and accelerated weathering lab for testing advanced materials in extreme conditions, have meant that these environmental challenges can be overcome.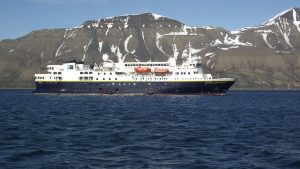 Bolidt is supplying a range of well-proven synthetic deck products to these vessels, including Bolideck® Future Teak, Bolideck Select and Bolideck Helideck. Other polar class newbuildings under construction that will feature Bolidt decking materials include Crystal Endeavour, which is the largest polar cruise yacht yet to be built. The 200-passenger capacity, 19,800 grt vessel, is being built in Germany at the MV Werften yard and is due to enter service in 2020.
Bolidt is also working on a series of three luxury Ritz Carlton Cruises vessels, each with capacity for 298 passengers, to be delivered in 2020 by Spain's HJ Barreras shipyard. Again, the Dutch company is the preferred supplier for Mystic Cruise's World Explorer, which is being built at Portugal's West Sea Yard for Quark Expeditions. The 9,300grt vessel will accommodate 176 passengers onboard.
As well as new polar cruise ships, Bolidt products can be found on several existing expedition vessels. Ships of this type in service with Bolidt systems include Celebrity Xpedition and Linblad Expeditions' National Geographic Sea Lion, Sea Bird, Endeavour, Explorer, Islander, Orion and Quest. Some of these vessels had Bolidt systems as newbuildings, while others have been upgraded with the Dutch company's synthetic materials during subsequent refits.
Note to editors:
For further information contact the Marketing & Communications department:
T +3178 684 54 44
E marcom@bolidt.com
www.bolidt.com