The magazine features topics dedicated to architecture, design and creativity.
27 May, 2014 – Bolidt launched its new interactive magazine in the first week of May. The Bolidt Magazine has been conceived as a lifestyle magazine. The new format, under the name "By Bolidt", will be published twice a year, featuring topics dedicated to architecture, design and creativity.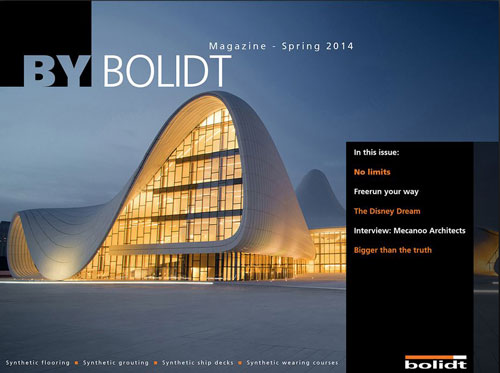 The focus will be on international stories about people and their projects. Bolidt projects will be integrated into articles on innovation, sustainability and social responsibility. Owner Rientz-Willem Bol has this to say about the magazine: "The interactive layout and refreshing content of the new Bolidt Magazine embodies our brand's pioneering and innovative spirit. This is the kind of modern marketing tool that crosses disciplinary boundaries, which is very much in line with the creative and inspiring approach we take to both product and systems development. That's what we like to call no limits".
About the By Bolidt Magazine
The magazine can be downloaded via the Bolidt website or Apple iTunes Store. It is offered as an information resource and an inspiration as to the endless possibilities of the Bolidt brand. In this first edition you will find news on recently completed projects from all over the world, including Zaha Hadid's Heydar Aliyev Cultural Center and Fontys University by Mecanoo Architects, as well as a completely new innovation from Bolidt for the healthcare industry called anti-microbial technology.
The Spring Edition is currently available on iPad and at this link http://www.bolidt.nl/en/newsflash/bybolidt-magazine.html, and contains some more unique features and functions, including:
– No limits in the cruise industry
– A new way of sharing and updating with the Bolidt Booster
– Interactive Bolidroom Experience – centre of inspiration
– Sainsbury Laboratory – Bigger than the truth?
– State of the art R&D at Danone Innovation Center
– The Bolidt Cycling Team
– Rotation tablet for multiple images and movies
About
Bolidt
Bolidt started 50 years ago, with the vision that synthetics offered many untapped possibilities. This basic principle has proved its worth since. Bolidt laid the foundation for a breakthrough by replacing conventional materials like wood and metal with thermosetting synthetics on bridges, in railroad construction and in shipbuilding, but also in commercial and industrial building, where flooring systems and roof car parks have benefited from continual innovation from Bolidt. This has been pioneering work that required patent protection, as well as gaining recognition. As a global company Bolidt installs up to 2 million square meters of synthetic flooring, grouting, ship decks and wearing courses per year worldwide.
Note to
editors:
Bolidt Synthetic Products & Systems
For further information contact Margriet Lommers, Press & Media Relations Manager
T +3178 684 54 44
E marcom@bolidt.com
I www.bolidt.com