8 June, 2017 (Hendrik-Ido-Ambacht) – The first stone has been laid at the Bolidt Experience & Innovation Centre, a unique facility due to be opened by Dutch decking specialist Bolidt. The facility is also the initial project to get underway at AREA78, the public-private waterfront development in Hendrik-Ido-Ambacht, close to Rotterdam, which is backed by local government, educational institutions and business.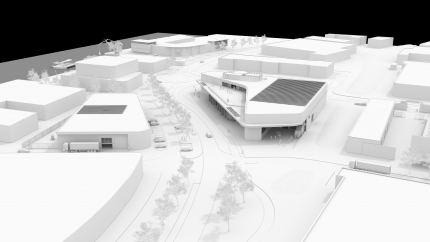 Artist impression AREA 78 from a birds eye view
The new Experience & InnovationI Centre, designed by Lüchinger Architects, Kossman.DeJong and RoosRos Architects, will open in 2018, with the aim of encouraging local and international visitors to immerse themselves in the world of synthetic flooring, marine decking, surface courses and other applications. Start-ups, learning institutions and Bolidt's collaborative suppliers will be invited to use the Experience & Innovation Centre to envisage new synthetic solution using virtual and augmented reality applications.
The facility is the centrepiece of Bolidt's efforts to drive technological innovation by engaging the imaginations of current and future customers – shipowners, architects, academia and bright young, creative minds.
"Ever since Bolidt was founded, we have invested in innovation", says Rientz Willem Bol, CEO of Bolidt and ambassador for AREA78. "In that respect, this kick-off fits in perfectly with our vision of the future. If you don't think about the future, you will not have one. 53 years ago, this thought, to provide innovative applications in synthetics that did not exist before, was one of the most important motives for starting Bolidt and still drives our work today."
The facility will be part of a hive of activity, surrounded by bars, restaurants, gyms and other enterprises designed to attract visitors to the area night and day. In its entirety, the project envisages visitors reaching AREA78 from Rotterdam by water, with the river De Noord acting as a new entrance for both Hendrik-Ido-Ambacht and Bolidt. The surrounding area is well-fitting with Holland's maritime sector, with yards and other major players such as Damen Shipyards, Oceanco, Heerema and IHC located close by.
Michel Van der Spek, Marketing and Experience Director at Bolidt says: "In building this unique centre, Bolidt is inviting external stakeholders to join us in brainstorming, to spark future research projects for our laboratory. It will be both a stimulus and an incubator for fresh innovation, based upon five core themes: design, sustainability, energy and data, safety and hygiene."
"Bolidt's R&D facilities are second to none, and our innovation for maritime has resulted in a well-deserved reputation as industry pioneers" comments Van der Spek. "The recent launch of Bolideck ® Glow, a decking solution whose luminosity by night harvests solar energy stored during the day, has been exemplary."
The new Experience & Innovation Centre will also increase the company's storage capacity and boost the production of prefabricated products by integrating these business functions. The first 300 piles driven into the ground to lay the new building's foundations bear the names of people who have made an important contribution to Bolidt's success to date. Looking ahead, the next 300 piles carry the names of partners that the company would like to collaborate with in the future.
For more
information:
Bolidt Kunststoftoepassing B.V.
Michel van der Spek, Marketing & Experience Director
Tel.: +31 (0)78 684 54 44
E-mail:marcom@bolidt.com