14 February, 2012 – Full scale decking work on the luxury cruise ship Norwegian Getaway is underway at Meyer Werft. Deck and flooring specialist Bolidt reports a shift in its workload at the Papenburg yard after completing materials supply and installation work on Norwegian Breakaway.
Norwegian Breakaway is due delivery to Norwegian Cruise Lines in April, with Norwegian Getaway to follow her into service in January 2014. These 4,000 passenger, 146,000gt vessels are a new class of cruise ships for NCL, whose design will be echoed on the larger, 164,000gt Norwegian Breakaway Plus, due from Meyer Werft in October 2015.
Bolidt has worked alongside Tillberg Design and SMC Design to deliver the subtle and functional surface shades required by NCL for the first pair of ships. The company is supplying 16,500m2 of surfacing for Norwegian Getaway, including Bolideck® 525, a skid resistant and shock absorbing deck covering system, and Bolideck® Future Teak.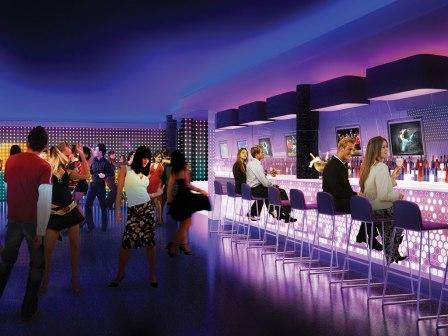 Bolidt coverings have also been selected the 'Entourage Teen Lounge' interior, where Tillberg specified a strident purple augmented by a 'sparkling' effect.
Bolideck® Future Teak will play a significant role in the ship's mood-setting conception, according to Jacco van Overbeek, Bolidt Director Shipbuilding. "Norwegian Getaway will include 'The Waterfront' on Deck 8, NCL's unique oceanfront boulevard concept," he says. "As with Breakaway, the boulevard will be lined with shops, restaurants and bars. Future Teak's black stripes evoke boardwalk planking, but the material is also subtle enough not to overpower walkway furnishing."
He adds the skid-resistant Bolideck® 525 is being delivered in subdued tones elsewhere onboard the ship, to offer relaxation zones in otherwise bustling areas. "The idea is to create a calm ambience in some zones, even though there is no physical separation between activities. The area around the aft pool, for example, needs a durable, easy to clean 'beach-like' surface with a dappled effect. Bolideck® 525 is also being delivered in grass-like green to cover the mini-golf course and basketball court, surrounded by the same material in a granulated, textured grey that evokes concrete.
The variety of colour and patterns available mean that Bolidt materials are making a key contribution to setting specific moods in other themed areas onboard. Bolidt created a black and silver glittered floor to enhance the ambience in the 'Bliss' nightclub, for example, which was tailored to passenger expectations. "The glitter starts off low density at the outer edges and increases density as it reaches the bar area," Mr van Overbeek explains. "This is designed to control the flow of the public to the bar."
***END OF PRESS RELEASE***
Note to
editors:
Bolidt Synthetic Products & Systems
For further information contact Michel van der Spek, Manager Marketing & Communications
T +3178 684 54 44
E marcom@bolidt.com
I www.bolidt.com