09 March, 2017 – The first ship delivery made to Viking Cruises in 2017 by Fincantieri has entered service, becoming the latest in a series of the cruise operator's ocean-going vessels that are distinguished by environmentally-friendly decking and flooring from Bolidt.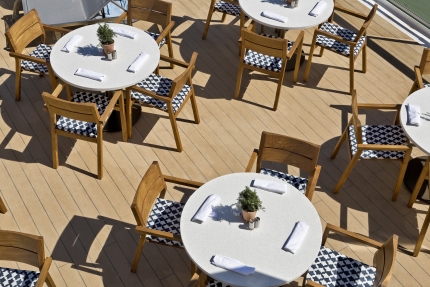 Viking Sky, which left the Italian port of Civitavecchia on its maiden voyage on February 25th, was delivered by Fincantieri in January. Like its sisters, the latest ship has 465 cabins and can accommodate around 930 passengers.
The 227m long cruise ship follows two sisters into service, Viking Star and Viking Sea, which were delivered in 2015 and 2016 respectively, while Viking Sun is due in service later this year. Viking Sprit is scheduled for delivery in 2018, while an as-yet unnamed sixth cruise ship will complete the confirmed series in 2019. Additionally, Viking has an option with Fincantieri for a further two sister ships.
Bolidt is installing an identical decking package on all the ships so far confirmed. Jacco van Overbeek, Bolidt's Director, Maritime Division, says: "We have enjoyed a long and close relationship with Viking, supplying decking to its 'Longship' series of river cruise vessels, as well as carrying out maintenance work across its inland cruise fleet for many years. All six of the Viking Cruises ships have the same deck specification, which is relatively unusual, and we are grateful for the continued trust shown by Viking across the series."
Viking Cruises prioritises environmental performance in its ships, with all six in the latest series featuring energy efficient hybrid engines, hydrodynamically optimised hulls, and technology to minimise exhaust gas emissions. Like its sisters, Viking Sky has been fitted with around 7,500m2 of Bolidt decking systems in total, and most of the outdoor deck areas, including the Wintergarden, balconies and terraces use Bolideck® Future Teak – an environment friendly, slip resistant and cost effective decking solution.
In addition, Bolideck® Select Soft has been used for the sports deck, jogging track and shuffle board areas, while some smaller areas of the outside deck spaces use Bolideck® Select Hard.
The positive experience of working with Bolidt in the inland cruise market convinced Viking that it wanted to use the Dutch company's decking systems for its deep-sea cruise programme, states Richard Goodwin, Viking Cruises' Vice President, Engineering.
"We have always been impressed with the quality of the products, and the flexible approach to service delivery shown by Bolidt," he says. "So, when we came to ordering these ocean-going cruise ships we were keen to have Bolideck systems onboard again. We were delighted to work with Fincantieri and the ships' designers to make this happen. We are very happy with the outcome, and look forward to continuing to collaborate with Bolidt on the remaining three ships in this series."
Goodwin also praises Bolidt's ongoing support after vessel deliveries."We have benefitted greatly from their input in helping our crews to maintain the quality of the finishes once the ships are in service," he concludes.
***END OF PRESS RELEASE***
For further information contact the
Marketing & Communications department:
Bolidt Synthetic Products & Systems
T +3178 684 54 44
E marcom@bolidt.com
www.bolidt.com