18 July, 2014 – Bolidt Synthetic Products & Systems has secured a contract as exclusive partner to Viking Ocean Cruises for the supply of decking and flooring. The contract covers Viking Star, the first vessel due for delivery in 2015 and its sister ship, Viking Sky, scheduled for delivery in 2016, as well as options on a further two vessels.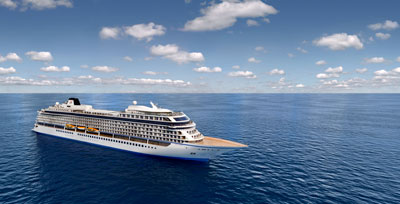 Viking Cruises has a long tradition of working with Bolidt through our extensive 'Longship' river cruise program," says Richard Goodwin, Vice President – Engineering, Viking Cruises. "Bolidt has shown a willingness to adapt to our requirements and has always provided a quality product, and for this reason we are happy to continue this relationship on our new fleet of luxury cruise ships currently building in Italy."
Viking is renowned within the river cruise sector, where it has experienced unprecedented expansion over the past few years. Its decisive move into the ocean cruise market will build on the same attention to ship design, itinerary, privileged access excursions and on-board experiences for a discerning clientele. The fleet will be comfortable, state–of-the-art ships that are intimate and thoughtfully created by experienced naval architects and designers to enrich the passengers' interaction with their destinations in every way.
The interior design of Viking Star, from London-based SMC Design and Los Angeles-based Rottet Studios, offers a modern and contemporary feel. Bolidt's products lend themselves perfectly to delivering this vision. The Dutch flooring and decking specialist offer flexible systems that can be used within many different design frameworks and yet still meet requirements in terms of cost, ease of maintenance and environmental protection.
Bolideck® Future Teak, an environmentally-friendly, slip-resistant and cost-effective alternative to traditional teak will feature in the 'Wintergarden' as well as on all outdoor decks, balconies and terraces. The choice of this sustainable product supports the overall environmentally-conscious design of the 47,800 dwt vessel, which will feature a hydro-dynamically streamlined hull and bow and be fitted with energy-efficient engines to maximise fuel efficiency. The vessel will also feature equipment to minimise exhaust pollution.
Bolideck® Select Soft will be used for areas such as the sportsdeck and jogging track. This system has been specifically developed for its excellent sound attenuation qualities, combined with ease of maintenance and durability. Bolideck® Select Soft provides a safe surface that is extremely comfortable, even when barefoot.
"Bolidt has delivered its decking solutions to some of the highest profile cruise ship operators in the industry and is extremely pleased to be selected to partner Viking as they extend their business into the ocean cruise sector", says Jacco van Overbeek, Bolidt Director Maritime Division.
Note to
editors:
Bolidt Synthetic Products & Systems
For further information contact the Marketing & Communications department
T +3178 684 54 44
E marcom@bolidt.com
www.bolidt.com