22 March 2021 – Leading resin applications expert Bolidt has supplied outdoor decking for RMS St Helena, the 'floating paddock' that will support a forthcoming series of sustainable off-road races in five remote locations worldwide.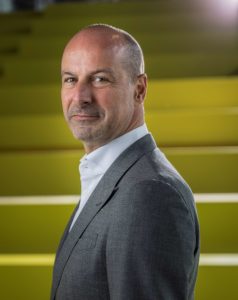 Formerly employed by the Royal Mail to serve the British overseas territory after which it is named, RMS St Helena has been repurposed for its new role as a floating paddock and base for the 'Extreme E Championship' taking place between 3 April and 12 December 2021. At over 30 years old, the passenger-cargo vessel has undergone modernisation and refit works to cut its emissions in line with the objectives of the Extreme E campaign, which include promoting sustainable practices and reducing the carbon footprint of sports events.
In an extensive refurbishment project, St Helena's engines and generators were converted to allow the ship to run on low-sulphur marine diesel rather than heavy marine diesel. The vessel's ability to operate on a single engine at cruise speed further reduces emissions by cutting its fuel consumption.
Resin applications specialist Bolidt was selected to supply the outside decks onboard on account of its proven sustainability credentials and experience working on vessels similar to St Helena. The Netherlands-based company installed 240 square metres of Bolideck® Future Teak on the ship's aft terrace. As a lightweight, hardwearing and eco-friendly alternative to genuine teak, the innovative decking solution is the ideal choice for vessels whose stakeholders prioritise environmental responsibility.
"It makes sense that the team behind Extreme E chose St Helena as an older vessel to refurbish – not only from a sustainability standpoint but also because this is a much-loved ship with a great deal of history," says Jacco van Overbeek, Director Maritime, Bolidt. "The ship fully aligns with Extreme E's carbon footprint agenda while also expressing our own values as a company with environmental concerns at its core. We are truly proud to have contributed towards this trailblazing campaign – and we will be following the races with great interest."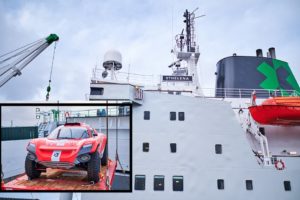 With the Extreme E Championship taking place across five remote locations on four continents, St Helena will transport the all-electric SUVs racing in the event – along with the necessary freight and infrastructure – to the ports closest to each site. The ship recently arrived in Jeddah, Saudi Arabia ahead of the debut race, 'Desert X Prix', in the country's Alula region. Aiming to raise awareness of the issues of water scarcity and desertification, Desert X Prix is followed by events in Senegal, Greenland, Brazil and Argentina, with each race highlighting different environmental threats.
Bolidt's involvement in projects like the St Helena refit reflects the company's commitment to protecting the planet. From its Bolidt Innovation Center, which is rated 'Excellent' under the BREEAM benchmarking assessment for environmental performance, Bolidt conceives, tests and showcases pioneering eco-friendly designs and materials. The facility has remained accessible via virtual tour throughout the pandemic, ensuring that visitors can experience the creative hub despite travel restrictions and social distancing regulations. An outline of Bolidt's vision on sustainability is provided on its 'GreenDots' website:  https://greendots.eu.
For further information please contact:
The Marketing & Communications Department
Bolidt Kunststoftoepassing B.V.
T +31 (0)78 684 54 44
E marcom@bolidt.com
www.bolidt.com ​
PR contact:
Debbi Bonner
Managing Director, JLA Media Ltd
T +31 (0)652 630122
E debbi.bonner@j-l-a.com