9 October, 2017 (Helsinki, Finland) – ABB to provide Azipod propulsion system for new Viking Line cruise ferry to be built in China, the first installation of Azipod propulsion in a cruise-ferry application. The vessel is to be built by Xiamen Shipbuilding Industry co., Ltd. Additional scope of ABB's supply includes electrical power generation and distribution systems and bow thruster motors.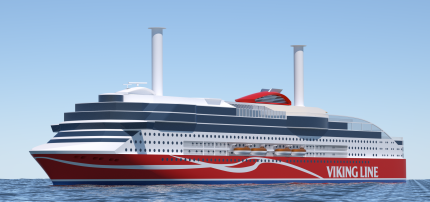 New Viking Line cruise ferry
Scheduled for delivery in 2020, the 13-deck, 63,000 gt vessel, 2,800-passenger capacity ship will connect the Finnish port of Turku, Åland Islands and Stockholm Sweden. Azipod electrical propulsion is especially suited to the high efficiency and fast turnaround required to navigate the archipelago between Finland and Sweden.
Like her high-profile, European-built predecessor Viking Grace, the new cruise-ferry will feature LNG engines. However, while the earlier Viking Line ship includes conventional shaftline propulsion technology, the latest contract calls for the first installation in a cruise-ferry application of twin XO 2100-type Azipod propulsion. Azipod XO units are the propulsion solution of choice in the cruise ship market. Like all Azipod propulsion units, the XO-type features intelligent control systems and advanced condition monitoring, and is designed for optimized energy efficiency and maintainability. Classed by DNV-GL the ship will also draw on ABB's long experience in providing Azipod propulsion systems for ships operating in ice conditions, with the Azipod XO units designed to match the ship's ice class 1A Super notation.
Engineered for vessel comfort, maneuverability and efficiency, Azipod XO units are designed and built in Helsinki. In fact, the majority of the marine equipment onboard the new vessel will be sourced in Northern Europe. ABB's experience in running major projects in China also proved pivotal, with the company's local production set to contribute power distribution systems and bow thruster motors to the project.
"Our expectations for this vessel is that she will be the most efficient cruise ferry operating in the Baltic, if not the world, and our choice of ABB is based on our experience of them as a reliable, innovative supply partner with the knowledge and understanding to run major projects in Finland and locally with shipbuilders," says, Jan Hanses, President and CEO, Viking Line.
"Following on from our power and propulsion systems role in Viking Grace, we are very excited that the continuation of our cooperation with Viking Line involves the groundbreaking order for Azipod propulsion for this cruise ferry," says Marcus Högblom Vice President, Global Sales, Azipod and Passenger Ship Segment.
"By utilizing ABBs knowledge in the cruise sector, Viking Line's expertise in ferry operations and our joint experience from Viking Grace we are – together – writing the future of how propulsion systems will look," adds Juha Koskela, Managing Director, ABB BU Marine and Ports.
Viking Line has stated that its contract with XSI includes an option to build a second cruise ferry at the yard.
About ABB
ABB (ABBN: SIX Swiss Ex) is a pioneering technology leader in electrification products, robotics and motion, industrial automation and power grids, serving customers in utilities, industry and transport & infrastructure globally. Continuing more than a 125-year history of innovation, ABB today is writing the future of industrial digitalization and driving the Energy and Fourth Industrial Revolutions. ABB operates in more than 100 countries with about 136,000 employees. www.abb.com