27 May, 2015 – The super-strong bumper car floor for the 'Seaplex' sports facilities onboard the new generation of Quantum-class vessels for Royal Caribbean International has been described by Dutch flooring & decking specialist Bolidt as among its toughest ever assignments for a cruise ship application.
The 4,180-passenger capacity, 167,800 grt Anthem of the Seas embarked on its maiden voyage last month, on April 22nd, and is the second in class, following the delivery of sister ship Quantum of the Seas in October last year.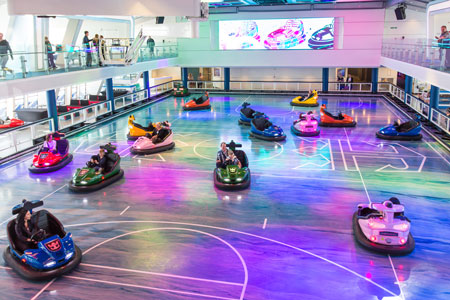 Anthem of the Seas 'Seaplex'
Both of the new Quantum-class are mould-breaking vessels in many respects, setting new standards in environmental protection and safety. They also both feature Seaplex, a multi-purpose sports facility where for the first time ever passengers can enjoy bumper cars at sea, in an area that can be converted for basketball, roller-skating and circus skills classes.
Seaplex is considered the largest indoor space at sea, and demanded innovative flooring technology from Bolidt. Kelly Gonzalez, Vice President, Architectural Design Newbuilding and Fleet Design, for Royal Caribbean Cruises Ltd., says: "For the Quantum-class we went to Bolidt for most of our outdoor decking needs and primarily specified their tried and tested Bolideck® Future Teak, where we wanted a high quality ambience, and Bolideck® Select Soft.
"However, in the case of Seaplex, we worked on a new and special type of floor which would be suitable for the variety of activities we wanted to offer, and the new floor produced by Bolidt has met our demanding requirements very well indeed."
On both ships Bolidt collaborated closely with the lead design team from Wilson Butler Associates, as well as Royal Caribbean itself on Seaplex flooring. Jacco van Overbeek, Bolidt Director Maritime Division, says: "Every ship is a challenge but the toughest assignment from our point of view on the Quantum-class for sure must be the 'bumper car floor'. This is a 'designer product' developed for this series of ships, which had to be hard-wearing enough to take the impact of roller-skating, basketball, dancing and of course driving bumper cars. The floor of Seaplex is, I believe, also visually stunning, and helps make this a very special place onboard."
Bolidt has supplied decking for many parts of the outdoor areas onboard Anthem of the Seas, as well as the balconies and galley areas. In addition to Bolideck® Future Teak and Bolideck® Select Soft, Royal Caribbean specified Bolideck® Select Hard, Bolideck® 525 and Bolideck® Galleydeck for the new cruise ship.
The 348m Anthem of the Seas was delivered by Meyer Werft in Germany in April, before sailing to Southampton where she was officially named. The ship will complete its maiden season in Southampton with cruises to Northern Europe, the Mediterranean and Canaries, before setting sail on her maiden transatlantic voyage to New York in October.
A further sister ship Ovation of the Seas, ordered by Royal Caribbean from Meyer Werft, is due for delivery in 2016. Bolidt has been lined up to supply a similar package of flooring and deck solutions for this Quantum-class vessel.