The long-standing Inmarsat customer has extended its Fleet Xpress agreement for 12 vessels and adopted value-added services for remote maintenance and cyber security.
10 January 2023 – Bahamas-based ship-management group Campbell Shipping has extended its relationship with Inmarsat, a world leader in global, mobile satellite communications, with an agreement that adds Fleet Care and Fleet Secure Endpoint to its existing 12-vessel Fleet Xpress solution. Campbell Shipping will now be able to carry out remote maintenance, support and repairs, and comprehensive network protection, on top of fast, reliable and extensive global coverage already provided by Fleet Xpress.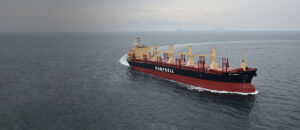 These industry-leading performance characteristics were key to Campbell's decision to migrate its fleet of dry-bulk carriers to Fleet Xpress from Fleet Broadband in 2018. With vessels often sailing in areas of the Southern Hemisphere, the Fleet Xpress combination of highspeed Ka-band plus continuous L-band back-up delivers the bandwidth and stability to keep business operations online 24/7 and allows crew to remain in contact with friends and family on shore.
Michael Dean, IT Vessel Manager, Campbell Shipping, said: "We opted to renew our contract with Inmarsat based on its extensive coverage and our positive experience working with the company so far. Ever since the upgrade to Fleet Xpress, our ships have been better connected, with crew enjoying more stable access to communication and entertainment services on board. Now, thanks to Inmarsat's value-added applications, we can also rest assured that vessel equipment and networks are in safe hands."
By enabling round-the-clock remote support from Inmarsat engineers, Fleet Care will prove especially valuable when Campbell's vessels are operating in isolated stretches of ocean where physical access by service technicians would be difficult. As well as helping keep critical communication systems in working order and thereby promoting safer, more efficient operations, the fully managed maintenance programme provides cost transparency, with a fixed monthly fee replacing more costly annual services.
Meanwhile, amid growing concerns over maritime cyber-attacks and malware, Fleet Secure Endpoint will provide Campbell with continuous protection of all online endpoints on the vessel network, automatically monitoring, identifying and blocking threats as they arise.
Logan Murray, Sales Manager, Inmarsat Maritime, said: "Campbell Shipping has shown itself to be a forward-thinking ship manager that understands the importance of reliable connectivity – both for business operations and crew welfare. We are delighted to renew our long-standing relationship with the company and look forward to helping it reap the additional rewards of remote maintenance and robust cyber security."
ABOUT INMARSAT
Inmarsat delivers world leading, innovative, advanced and exceptionally reliable global, mobile communications across the world – in the air, at sea and on land – that are enabling a new generation of commercial, government and mission-critical services. Inmarsat is powering the digitalisation of the maritime industry, making operations more efficient and safer than ever before. It is driving a new era of inflight passenger services for aviation, while ensuring that aircraft can fly with maximum efficiency and safety. Furthermore, Inmarsat is enabling the rapid expansion of the Internet of Things (IoT) and enabling the next wave of world-changing technologies that will underpin the connected society and help build a sustainable future. And now Inmarsat is developing the first-of-its-kind, multi-dimensional communications network of the future, ORCHESTRA.
In November 2021, Inmarsat and Viasat announced the planned combination of the two companies, to create a new leader in global communications.
For further information, follow us: Twitter | LinkedIn | Facebook | YouTube | Instagram.
ABOUT CAMPBELL SHIPPING
Campbell comprises a group of companies specializing in various aspects of ocean transportation. Working with our collective strengths and effectively coordinating among our business units, we create and deliver business solutions in the industry. Our objective is to be recognized as a group that provides exceptional service to the clients we serve. We distinguish ourselves by the value we bring to our clients, which comes from our ability to leverage our greatest asset, which is our people.
For further information, please visit: https://csship.com/