21 March 2023 – Leading Canadian maritime operations platform provider, Helm Operations, is partnering with Bristol-based Reygar to harness the benefits of digitisation as part of the global effort to reduce the maritime sector's carbon footprint.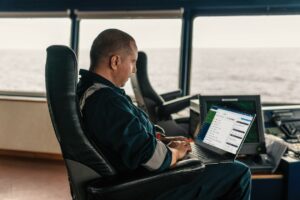 The collaborative research and development initiative, jointly funded via Innovate UK's 2022 'Canada-UK Zero Value Chains – Transportation' call and the National Research Council of Canada, will pave the way towards lower carbon emissions and reduced operating costs for tug and workboat fleet operators worldwide.
The partners aim to achieve this by further developing the integration between Reygar's BareFLEET vessel performance monitoring technology and the Helm CONNECT fleet management modules, with an on-vessel link up between Reygar's telematics unit and the Helm CONNECT user interface.
The project builds on existing co-operation between Reygar and Helm, who partnered in 2022 to support the roll out of BareFLEET to global marine, energy and logistics provider, Crowley. Crowley worked closely with Reygar and Helm on system integrations to generate essential maintenance, fuel and emissions data that empowers crews and fleet managers to adopt more efficient, fuel saving operational practices. Since then, other mutual customers have successfully adopted Helm CONNECT and BareFLEET integration for more streamlined and effective fleet management.
Nolan Barclay, Helm Operations CEO, added: "Our partnership with Reygar has been incredibly positive from the start and we're thrilled to be building on the foundation that has already proven to be successful for many of our customers. The use of IoT sensor readings and automation to enhance technical asset management is already showing value in our market and we're excited that this new integration between BareFLEET and Helm CONNECT will address the growing need for emission reductions and ESG reporting."
Chris Huxley-Reynard, Reygar CEO, said: "This project takes our work to date with the team at Helm to the next level. By enhancing the integration between these two widely used systems, we can enable fleet operators and busy workboat crews to tap into greater efficiency gains with live data and feedback, generated onboard by BareFLEET and available directly from the familiar Helm CONNECT interface. This data can be used to reduce the environmental impact of offshore tasks in real time, without adding to anyone's workload."
The project addresses a key technological challenge for the global marine sector, which has tough targets to meet in its drive towards net zero emissions. The initial scope of work is expected to be completed by May 2024.
ABOUT HELM OPERATIONS
Since 1999, Helm Operations has been developing software to help maritime companies better manage their vessel maintenance, compliance, personnel and operations. Its flagship product, Helm CONNECT, has emerged as the leading software platform for maritime operations and fleet management. Today, more than 300 customers and 5500 vessels around the world use Helm CONNECT, including top operators in industries such as passenger vessel, harbor towage, barging, and offshore support.
ABOUT REYGAR
Reygar provides robust performance monitoring and control solutions for crewed and uncrewed vessels of all sizes and functions in challenging marine environments. Reygar has a strong partnership ethic and works collaboratively with industry peers to achieve sector goals. The team strives to overcome the most difficult technical challenges and lead the charge towards decarbonisation and optimal fleet efficiency for its customers. BareFLEET is Reygar's award-winning fleet remote monitoring system. It provides unparalleled, business-critical insight into fleet fuel use, emissions, machinery health, VMMS motion and navigational activity based on continuous on-board sensor measurements.