3 December, 2014 (Hamburg, Germany)– Caterpillar Marine is pleased to announce the launch of Cat® 3500 marine diesel engine gasket kits for engine overhauls. Cat gaskets are a critical part within Cat diesel engines and are specifically engineered with specialized materials to reduce leaks and keep fluid within the engine.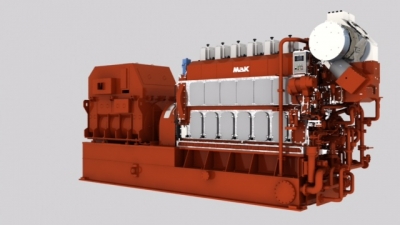 Recognizing varied customers' needs for their particular application, the kits are arranged by serial number to provide customers with a simplified and expedited ordering process. The kits will be available to order from the global Cat dealer network by early 2015. In addition to the new Cat 3500 gasket kits, customers are also able to order new Cat and Reman parts to complete their overhauls.
"Gaskets perform a very significant function in the engine room, not only ensure the vessel's engine room remains safe and operable but also preventing potential leaks and spills into the water," David Holt, Caterpillar Marine parts manager stated. "Gaskets can be overlooked by our customers as an area to cut costs and potentially use aftermarket parts, which is a risky strategy given importance of that specific component."
Gaskets can account for up to twenty percent of the cost of an engine overhaul and require multiple components to be correctly replaced. With the quantity of Cat 3500 engines operating in diverse applications around the globe, the components included in the Cat gasket kits are swiftly determined utilizing a specific software program and engine serial numbers at customers' local Cat dealers. Not only does the computer-based ordering system help facilitate the ordering process, it also helps customers save costs, ensuring a proper repair is initiated without excessive or unnecessary parts.
For the first time, Cat marine customers will be able to specifically select individual components and utilize ESC (Extended Service Coverage) to protect against failures for specific 3500 series engine parts. The Commercial Component Coverage ESC program is designed to offer customers superior value and support with assurance against unexpected repair costs on covered component failures due to defects in factory materials or factory workmanship under normal use and service. Coverage terms are available up to three years and 12,000 operating hours for certain components. Interested customers should contact their local Cat dealer for complete information and pricing.
Cat marine power and propulsion solutions are backed by the worldwide Cat dealer network with trained technicians to ensure service support is never out of reach. Visit us at the International Workboat Show, December 3rd – 5th in New Orleans, Louisiana, booth #2802. For more information on Cat 3500 gasket kits, visit www.catmarinesupport.com. For more information on Caterpillar Marine, visit www.marine.cat.com. For information on Cat Propulsion products, visit www.catpropulsion.com. Follow us on Facebook: www.facebook.com/caterpillarmarine and Twitter @catmarineglobal during the show using #CatWBS.